Re-Buratai, Biafra and the Guardians of Empire Nigeria by Femi Fani-Kayode.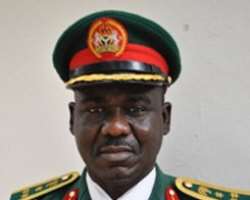 Femi Fani Kayode's Dishonesty, Provocative and Selective Amnesia.
Williams Wordsmith said, "If a person it too lazy to work, his house will begin to leak and the roof will fall in, a wise man's word brings praise. But a foolish person's word brings destruction".
The National Committee of Yoruba Youth (NCYY), reading through the most undeserved and highly berating recent article by the acclaimed controversial politician, Mr. Femi Fani Kayode, in which he insinuated and imputed innuendos into the good name and corporate reputation of Nigeria's Chief of Army Staff, Lieutenant General Tukur Yusuf Buratai and the Nigerian Army, in his persistent attempt to attack the incumbent administration of President Muhammadu Buhari, an administration which is presently prosecuting Fani Kayode on charges bordering on corruption and laundering of funds belonging to the Nigerian people.
Of recent, was his poorly conscripted but rather lengthy article which he titled: Buratai, Biafra and the Guardians of Empire Nigeria, where he attacked and described General Buratai as an arrogant and self-serving Officer, a position he premised on a recent statement by the Chief of Army Staff, advising violent agitators for separation of Nigeria to better forget it, as the nation is not in such era.
But is has become apparent, with each passing day, that this apostle of politics with bitterness is bent on pursing the path of perdition and does not care if he drags innocent souls with him into the mud. We, therefore, cannot and will not continue to fold our arms and allow this character to mess up the honourable name, high esteem and good reputation of the Nigerian Army, its Leadership and the Buhari administration. Besides, to remain silent is to allow him and his ilk to continue to mislead the public about the Present administration's good deployment and sending wrong signals by his deliberate acts of misinformation cum selective memory.
Honestly speaking; It is quite unfortunate that Mr Fani Kayode, despite all the goods that this nation has done to him in the face of his many challenges, which includes but not limited to mental, marital and financial, could now resort to ghost talking and fiction thinking, which we consider as an untold assault upon our corporate intelligence, as one indivisible corporate entity.
By this poorly conscripted article and various other juvenile interventions of Fani Kayode to otherwise serious National issues, Femi once again, has exhibited factual inaccuracy, logical inconsistency and linguistic incoherence. Beyond this, however one can only shake one's head in pity for Nigeria and indeed his political party, that this kind of person can parade himself as a symbol of their opposition to the President Buhari's administration. There could not be a more monumental tragedy.
Femi Fani Kayode demonstrates again and again that he is extremely economical with the truth to put it mildly. How on earth could an expression of patriotic personal opinion on Nigeria's sovereignty, by General Buratai, be related, to the 1966 "pogroms" in the North or other issues that have become of serious national security concern, to the ordinary Nigerian, such as the terror-like activities of the banned Islamic Movement of Nigeria under Sheik El-Zakky Zakky?
It is the height of unpatriotism and callousness, for Femi Fani Kayode, to describe the Nigerian Army, as a "Sunni Muslim-controlled Nigerian Army". Is it the same Nigerian Army that has been described as the pride of the black race, an Army adjudged as one of the best in the world in terms of their spectacular performance at Peace Keeping operations, not only in Africa, but beyond. Is this not the same Nigerian Army that has now decimated and reduced to shambles, the once dreaded Boko Haram insurgents, that once confined the movement of Fani Kayode's principal and rehabilitator, to Aso Rock Presidential villa?
If we didn't know that Femi Fani Kayode is now a sane person, we could have been tempted in the face of this Farrago of arrant nonsense to conclude that the person who can concoct all these tissues of lies must be suffering from a creeping (or even a full blown) dementia.
The NCYY, has been watching events as they unfold in our dear Nation Nigeria, and we are seriously disturbed that some people could be so willing to destroy the good intentions of a man who symbolizes everything good that could come out of Nigeria, that is, President Buhari and the competent hands he has engaged, such as General Tukur Buratai among others. We are really concerned that some people in the name of hijacking power at all cost would want to do anything to destroy the legacy of man, that we regard as a symbol of the Nigerian Nation, a symbol that has ultimately shown to other part of the world that Nigeria indeed is a blessed Nation.
We have become pro-occupied lately with the paucity of heroes in Nigeria and the impact of not being able to find true role models for young Nigerians. As they discover every day that many would be heroes and leadership wannabe are people with feet of clay and values mud, the need to find people that you can hold up to a generation takes on urgency of coping with crisis. We have been in search of good men, how few these seem to be these days. The good news is that the key word in the last sentence is seem. We find Lieutenant General Tukur Buratai example worthwhile to showcase. In many ways, he epitomizes the cultural stateman, in this time of delusion of grandeur, his simplicity and palpable integrity reminds us of what we yearn for but cannot seem to find, but his faith and the way he is living his life to impact on this great country provides hope to many that all is not lost.
Since assumption of Office, General Buratai has brought innovation and dynamism into the Nigerian Military, He has raised the bar beyond the traditional frontiers, by leading the battle against any threat against the sovereignty of this great country, from the front. At no time in our history has the Nigerian Army leadership shown more commitment to the sustenance of a policy of accountability, respect for the rule of law, prudence and transparency, than it is now been seen under the leadership of General Tukur Buratai.
Naturally, one was not surprised by Fani Kayode's outburst. By birth, this spent politician is synonymous with lies, by upbringing, he must have lacked tender care, thereby losing the values of honesty, discipline, and uprightness. Socially, Fani Kayode is a misfit and in fact politically, he is a bigot. In the words of late Senator Chuba Okadigbo, "a political bigot, is one who employs the use of falsehood, to perpetuate falsehood". It is evident that the late Chuba Okadigbo, had people like Femi Fani Kayode in mind, before he came about the theory of political bigotry.
There is a book with the intriguing title, "Upside Down Thinking" the one we have in the hands of Femi Fani Kayode, is much worse than INVERTED THINKING. It is irresponsible and nonsensical. It is fantasia. It is fiction thinking and ghost talking. But even fiction thinking and ghost talking requires soundness of mind, creative intelligence and progressive coherence.
The point though is that Femi Fani Kayode is disappointed in the world. He wants to be loved. He wants to be worshipped. He wants to sit on a high and haughty chair so others could bow feverishly under his overarching palm tapping their heads. That is why we think we should pity him.
We believe that Fani Kayode and his cohort would in due course realize their folly and return to the path of good reason and goodliness.
General Tukur Buratai, is a leader whose attribute are well known. A person that understands and embodies the core values and aspiration of this nation; our abiding quest for unity, peace, prosperity, mutual respect and peaceful co-existence. A foremost Nationalist, a detribalized Nigerian, a consummate patriot and a Primus inter peres. As morning shows the day, so also does a political signpost indicate how a political operator wishes to be judged, for General Buratai, to be known and called a man of peace, this takes courage and immense does of optimism. The creed of peace is a commitment he had made to Nigerians. It is the creed by which he wishes to be judged and it is the creed by which scholars who write history will judge him and his enormous contributions to Nigerian Army and the Nigerian Nation.
The only way to lead people is by showing them the future.
Comrade Odeyemi Oladimeji is the President of National Committee of Yoruba Youth (NCYY). He sends in this article from Oluyole Estate, Ibadan, Oyo State.
Disclaimer:

"The views/contents expressed in this article are the sole responsibility of the author(s) and do not necessarily reflect those of The Nigerian Voice. The Nigerian Voice will not be responsible or liable for any inaccurate or incorrect statements contained in this article."