Mtn, Shoprite, Dstv Should Do More To End Xenophobia – Dabiri-erewa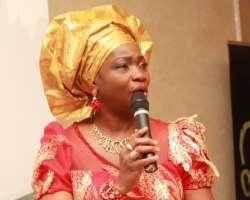 SAN FRANCISCO, March 11, (THEWILL) – The Senior Special Assistant to President Muhammadu Buhari on Foreign Relations and the Diaspora, Mrs. Abike Dabiri-Erewa, has harped on the need for South Africa companies operating in Nigeria to do more to educate South Africans on the need to stop xenophobia.
This was as she pointed out that it was after the reprisal attack on MTN office in Abuja that South African authorities called a meeting to address the violence unleashed on Nigerian immigrants there.
Speaking on The Osasu Show, Dabiri-Erewa noted that the xenophobic attacks in South Africa is driven by hate speech and misinformation, disclosing that some politicians in that country fuel the attacks by telling citizens that foreigners, including Nigerians, are taking their jobs and their women.
Her words, "Nigeria must help South Africa to be more decisive, for instance, the only time the minister called this meeting in South Africa was after the MTN reprisal attacks here.
"Lately, multinationals here; Shoprite, MTN, DSTV, also make conscious attempt to try and educate their citizens. Imagine MTN sending text messages to everyone in South Africa, saying Xenophobia is bad, don't do this and that.
"They should embark on some corporate social responsibility. Those multinationals should get up and do something. DSTV should be doing various jingles on why xenophobia is bad, they should take over the awareness campaign."
Dabiri-Erewa while admitting that there were foreigners who commit crime in South Africa, said they can be dealt with, but not by discriminating against Nigerians or any other race or country on or off the continent.
According to her, "There are people who commit crime in South Africa, such people are in any country. If South Africa is fighting crime; let it fight crime, not fight brothers and sisters, who are legitimately working in South Africa.
"Don't forget that these attacks happened in the past. This is the seventh attack. The last one was in 2015… the king of Zulu made some remarks that were inciting, that led to the last attack.
"This particular one, let's look at the circumstances. Fine, there are economic issues everywhere in the world. Politicians are campaigning and telling their people, 'you know what, drive these criminals away, they are taking your jobs, and they are taking your women too'.
"They don't say that openly, but there is this thing about it; even the women are not looking at us.
"It is a wrong message and there has to be education, awareness, that it is not these immigrants that are taking your jobs. Look at the jobs they are doing; vulcanisers, mechanics, barbers, these are middle income jobs," said the presidential aide.