No big deal in sex for movie roles, says actress Success Asibor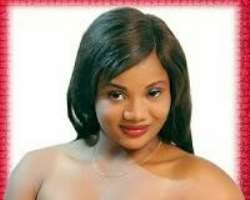 Light-skinned and fast rising actress, Lillian Asibor, who is popularly known as Success or Vallila in the Nigerian film industry, is taking acting to the next level by exhibiting a soft and very catchy attributes to interpretation of roles.
Success, who started acting professionally fours years ago, is also a producer and has featured in movies like When Dreams Fall Apart, In the Greek, Triggered and many more.
In a chat, Asibor narrated how the journey began and how her strong passion for acting has made her stand out among her contemporaries.
How did your acting career start?
I have always had passion for acting ever since I was very small. I remember vividly when I was like five years old, I would stay in front of the television in the house to watch movies, then later I will start acting the same way I watched it for my mummy. Then I used to admire Regina Askia, Liz Benzon and all. I started acting from secondary school but my father said it's over his dead body that I will act. I would go for auditioning and he will flog me. After secondary school, I stopped attending auditioning and concentrated on my education. When I got admitted to Ambrose Ali University, Ekpoma, Edo State, in year two, my immediate elder sister bought me a form to attend a movie audition. I told her 'I'm scared, will you go with me?' And she agreed to go with me. That sameday, I was auditioned and chosen. That was how I started acting in Edo State.
But my journey into the movie industry will not be complete if refuse to mention how I came across Chico Ejiro, Zeb Ejiro, Emmanuel Okukuwa and some other directors and artists. They saw me acting and were like, 'wow, so you know how to act. You are also a good girl, the next time I have a movie to shoot, I will call you' That was how I came down to Lagos to act with Uche Jombo on Chico Ejiro's production.
What's the title of the movie? 
It's a movie titled  When Dreams Fall Apart.
Who do you look up to in the movie industry?
I want to be like Omotola Jalade.
Why her? 
I love her simplicity, and her real nature of interpreting roles. She's very natural, she's herself. When you watch her movies, you will notice that she doesn't over act.  Movie is actually make believe and she always gives her acting that make believe touch.
Do you look forward to working with her? 
Definitely! I can't wait to work with her. Although, we have both featured in the same movie, the day she came on set was the day I was leaving. But I was with her in the car for a while.
Like how many movies have featured in? 
I don't have the number off hand but I could remember some titles likeWhen Dreams Fall Apart, Made on Mission, Desperate Bankers, Shattered Dream, Evil in Me, Triggered, which was produced by me and lots more.
Considering the nature of your job, do you‎ think you would be able to stay long in the industry? 
Sure, I will stay long in the movie industry. I'm not in it because everybody is there, I'm here because of my passion for acting, this is me and all I love to do.  As the saying goes, 'nothing good comes easy'. If I am not on set for two weeks, I'll feel I'm not where I'm supposed to be. I love it when I am on set.
Has any producer told you that if I don't have sex with you, I won't give you role?
Yes, several times and I don't see it as a big deal. It happens in other industries too. There's always sexual harassment in other sectors; you see lecturers asking their students for sex before they can pass them. Even some bosses in corporate organisations ask their subordinates for sex before they can be promoted. But the ability to make you stand out, makes you who you are. I can't say because I'm not picked for a role, I will now go and sleep with the producer or director. Never! That's not me.
You are a beautiful lady, what is your beauty routine? 
Thank you. To maintain a fair skin is a whole lot of work, and my skin is very delicate, I react to any irritation. So, I try as much as I can not to share towel, bathing soap or cream with anybody. I take two glasses of warm water every morning and night. And I eat more of vegetables and fruits.
You once said that your boobs are your selling points, how do you maintain them to remain your selling points?
I used to think that my boobs are my selling points, but now my brain is my selling point because I have a lot in there that is very profitable for the movie industry. As for my boobs, I don't tie wrapper on my chest for any reason, because it sags the boobs. I don't  wear bras with iron underneath and I don't sleep with my bra on.
Is Success Asibor in a relationship? 
I am in a relationship, but I'm single and not married. I am always ready to mingle.
Is your man comfortable with the nature of your career?
Yes, he's very comfortable with my job; he loves it so much. Anything I do, he's always supporting me and he's very, very understanding.
What kind of guy would you like to settle down with?
First of all, he must be God fearing, understanding and very romantic.
What inspired your movie, Triggered?
People's perception about men. A lot of people believe men are the ones that cheat and not women, but the both of them are guilty. Triggeredcenters on an ingrate girl friend, but then the rest will be unveiled when the movie is out as home video.
Aside acting, what else do you do? 
Aside acting, I sell hair extensions and female wears.
Between movie making and trading, which is more profitable?
Like I said earlier, acting is my passion; it gives me joy and satisfaction, but my business pays me more.
Are you ready for marriage?
I will wait for God's own time.
What is that special thing that acting has done for you? 
It's really opening doors for me these days I must confess, I have been getting different adverts of recent. - The Sun.