PDP'S ROTATIONAL PRESIDENCY LIMITS GENUINE CANDIDATES –BENI LAR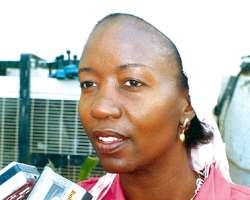 Beni Lar is a member of the House of Representatives and also the daughter of the first National Chairman of the Peoples Democratic Party, Chief Solomon Lar. She tells JUDE OWUAMANAM that Governor Jonah Jang has done fairly well in spite of the ethno-religious killings in Plateau State.
Do you have confidence in the Independent National Electoral Commission to conduct the 2011
elections, in view of the fact that electoral reform and chairmanship of the INEC are key?
I think President Goodluck Jonathan has made it explicit in his interviews that there would be changes (at the INEC) before the election. Right now, he has begun to effect the changes. So, we are waiting to see who takes over from Prof. Maurice Iwu. (And) not only Iwu, all political offices at the INEC will come for renewal, and so, we would see how such processes go. But like he said, only those found competent would be re-appointed. Nigerians deserve to have the confidence of INEC and the electoral reforms.
Many top chieftains of the Peoples Democratic Party are getting ready to contest for the Presidency. How is the party going to handle the controversies that will follow its zoning arrangement?
For me personally, I believe that the issue of rotation limits genuine candidature; so let us down-play these issues of zoning or rotational presidency. The President can come from anywhere in Nigeria. So, let us be open to allow what the people want. I am sure the party will sit down and decide and whatever the party feels is right, is what it will adopt for the people.
How do you feel as a federal legislator from Plateau State about the wanton destruction of lives and property in the state vis-Ã -vis its quest for development?
The crises are going to stop and we are working towards that. There is no doubt that the entire country is sad because people have lost loved ones, properties and everything they had worked for all their entire lives. Something uppermost in the mind of all is that nobody wants to see these crises anymore. We no doubt believe that nothing like these will happen again. However, to be candid, politicians are not helping matters by the statements they make often; rather they are inflaming the situation. Some politicians in the past had accused people of playing politics of exclusion. It is very sad because they are the very ones that have benefited from the state. They have risen from the lowest positions to unimaginable heights. People played politics of inclusion in the past and even now, yet people point accusing fingers at everybody in the state.
Do you think that the Jonah Jang administration has done better in managing these crises and if not, what better ways are there to check them?
To my mind, I think the Governor Jonah Jang administration has done well to contain many things which translate that he needs all hands on deck; from the Federal Government, the State, all Muslims and Christians etc. It is not just a government problem alone, but also of all of us. He is the head and needs assistance to a larger extent from the citizenry.
You are aspiring to retain your House of Representatives' seat, what have you done for your constituency to seek their vote for a second term?
It is not for me to say what I have done for the people of Langtang North and Langtang South. It is left for them to decide whether I have done much for them or not. But the projects I have done for my people are there for them to see. But just to give you a little bit, we have just provided solar energy electricity to the two local government areas. We have dug about 71 boreholes; right now we have completed about 65. We have also trained youths and women in job acquisitions in conjunction with the Industrial Training Fund and the School of Relevant Technology. We have educated youths to be committed in whatever they do and to curtail crimes in the localities. We are right now trying to equip clinics in all the local government areas. There is also our dream of (getting) a federal library in Langtang.
Some other people in your constituency are showing interest to run against you next year.
That is beautiful for democracy. Like they say the more, the merrier. In a free and fair society, you find that everybody is interested, but like everybody knows, it is a contest everybody has the right to choose. I have never contested for any election alone, so I do not expect to be alone. The same confidence that I had in 2007 is the same confidence that I have now. As long as I enjoy the confidence of the people or rather the endorsement of the people, I am confident.
Governor Jang is also asking the people for a second term. In your estimation, does he deserve it?
I am honoured that I am elected under the same PDP platform in 2007 with the governor. As for the effectiveness of Governor Jonah Jang, I am pleased that he has handled the affairs of the state very well. We have seen improvement in infrastructural development; we can point to roads and other projects, even in my constituency he executed. We can also point to hospitals that have been upgraded and also solar lights everywhere. There are physical structures visible to the eyes; and he has spread it to most of the Local Government Areas. On the whole, he has done fairly well. The main issue here is on the forthcoming elections; the first being that of the National Assembly which is in the process of constitutional and electoral amendments. We have said that what we need is free and fair elections in 2011.
We have passed several views to this effect and I am happy that one of my views was passed; this is the one on the setting up of electoral tribunal. I was privileged to head the women's platform of the Justice (Muhammed) Uwais Committee. The committee designed a programme for women so that they can be strategically be positioned to fit in properly because women have only seven per cent representation in the parliament. All over the world women are at the lowest level of representation. Now, all the heads of the electoral institutions and the deputies cannot be men. Let's pray that the chairman of INEC and other bodies that conduct elections will effect this change. I am praying that this issue of quota system where women will be properly positioned should go into the constitution of the different political parties, just as we want to have more women at the top.
What are your experiences from your recent participation in a human rights conference in Geneva?
What we really focused on were Middle East; Israel, Palestinians and all the countries surrounding Israel. A lot was learnt; leadership qualities, especially how to make use of power and providing basic amenities to the teeming populace. Israel provides a good spot for potable water to adjourning countries, but human rights abuses also are prevalent. So also is Jordan which has its own trouble but used what they have to assist others. Here (Nigeria) we have a lot of leadership problems to overcome. Our human rights history is quite disturbing. We need to amend the Human Rights Commission Act to give them power and a full pledged institution to tackle the issues of human rights abuses. Because that is the only institution that is able to protect or check abuses in Nigeria, make them independent so that they can get their finances directly like the INEC.