Buhari returns to Nigeria, thanks Nigerians for their prayers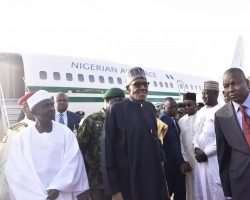 President Muhammadu Buhari has returned  after nearly two months of medical leave in Britain to the relieve of many of his admirers who had prayed that there would be no postponement one again.
Buhari had twice pushed forward his return date after announcing ab intio that he would be away for just 10 days on leave.
The president however had properly handed over to his deputy, Professor Yemi Osinbajo, who creditably filled the viod that many Nigerians had begun to wish that he were the president.
Dressed in a kaftan and Muslim prayer cap, the 74-year-old former military ruler walked stiffly but unaided from his plane after it landed at an air force base in the northern city of Kaduna.
Although his spin doctors had came up with various reasons for his prolonged stay in London, none of them was willing to admit that the former military leader was actually sick. But his gaunt and frail outlook made a lie of any form of pretensions about his health.
According to Reuters, the president after greeting a handful of provincial and military officials,  boarded a helicopter to Abuja for meetings with Osinbajo and his top military commanders, greeting a long line of officials waiting for him at the presidential villa.
Buhari told a meeting with officials he was "feeling much better" to perform his duties, state television said.
Officials have refused to disclose details of his condition, saying only that he had undergone routine tests. This has fuelled speculation that his condition is much worse than officials like to admit.
In images released by his office on Thursday, Buhari looked painfully thin but was smiling as he greeted Archbishop of Canterbury Justin Welby in London. These had been the first official pictures in three weeks.
Buhari had in a brief address on arrival in the Presidential Villa, thanked Nigerians for their support for his administration and for the prayers made for him while he was away on medical leave.
Buhari, who first came to power in a military coup in 1983, is a northern Muslim while Osinbajo is a lawyer from Nigeria's predominantly Christian south, a political arrangement that reflects Nigeria's broad geographic and religious divisions.
Reflecting his popularity in the north, policemen were wielding guns to keep at bay hundreds of cheering people running towards the runway to greet him as Buhari's plane landed in Kaduna, a video published by the ruling APC party showed.
He left Abuja on Jan. 19 for 10 days of treatment in Britain but extended his stay on the advice of doctors.
Prior to his departure, Buhari made a point of conferring acting presidential powers on Osinbajo, seeking to allay concerns of a void at the helm.
Osinbajo played a prominent and active role in Buhari's absence, chairing cabinet meetings and finishing work on an economic reform plan needed to secure a World Bank loan to help plug a deficit caused by low oil revenues.
He also travelled several times to the Niger Delta oil hub to calm tensions with militants attacking oil facilities and the commercial capital Lagos – two regions Buhari had largely ignored.
The central bank also devalued the naira for retail customers, suggesting a wider devaluation of the currency may be in the offing despite Buhari's entrenched opposition to such a move.
The transparency over the temporary handover to Osinbajo stands in marked contrast to the secrecy and confusion that surrounded the illness of President Umaru Yar'Adua, who died in 2010 after a long period of medical treatment in Saudi Arabia.
The special adviser to the president on media and publicity, Femi Adesina, had  disclosed in a statement on Thursday March 9 that the president will return on Friday March 10.
Buhari left the country on January 19, 2017, for a vacation, during which he received medical treatment for an undisclosed ailment for over 50 days.
The vacation was supposed to last for 10 days but was extended indefinitely when the president sent a letter to the National Assembly asking for more time to attend to medical issues as suggested by his doctors.
 Kaduna state governor, El Rufai, while welcoming the president,  wrote on his Facebook page:
"WELCOME BACK PMB: The President is back. He has landed safely in Kaduna and received by Acting Governor Barnabas Yusuf Bala and senior KDSG officials. The government and people of Kaduna state are proud to receive our First Citizen back to his home to face the task of rebuilding Nigeria. Alhamdulillah. Jumaat Mubarak to everyone," he said