Former Military Governor of defunct Bendel State Ogbemudia dies at 85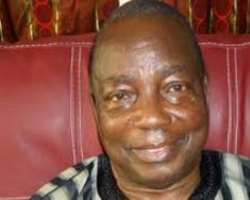 Former Military Governor of defunct Bendel State (now divided into Edo and Delta states), Dr. Samuel Osaigbovo Ogbemudia, is dead.
The legendary soldier, politician and sports promoter passed away earlier today  in Benin City, the capital of Edo State.
For some few years up till his passing, he had been frail, and was said to be unable to stand on his feet.
Dr. Ogbemudia (born 17 September 1932) was a Nigerian former army officer and politician. He was Military Governor (1967–1975) of the Mid-West State, later renamed Bendel State. After the return to democracy in 1999, he became a member of the ruling Peoples Democratic Party (PDP).
He was one of the most respected former military administrators, largely because of the huge developmental mark he made in former Bendel State as a military administrator.