Fashola is frustrating reconstruction of Lagos Airport Road: Gov Ambode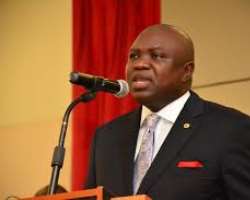 The Lagos State Governor, Akinwunmi Ambode, has blamed the Federal Ministry of Works the delay in the reconstruction of  the International Airport Road from Oshodi.
According to Ambode, the effort of his administration is being frustrated by the Federal Ministry of Works, which incidentally is under Lagos State Governor Babatunde Raji Fashola.
Speaking  at the Lagos House, Ikeja, after carrying out an extensive inspection of some critical projects in the state, the governor said that the present state of the Murtala Muhammed International Airport Road was a national disgrace and required immediate attention.
He said, "The road linking Oshodi to the International Airport is a national embarrassment. In the spirit of the regeneration and urbanisation that this administration has set out to achieve, we believe that the road must be repaired.
"We took it upon ourselves that the House of Assembly should approve the total reconstruction of the Airport Road from Oshodi to the International Airport in the 2017 budget. Every plan has been completed, but we are having challenges with the Federal Ministry of Works and Housing."
 Ambode also  scarcely hid his frustration  that six months after President Muhammadu Buhari approved the handing over of the Presidential Lodge in Marina, the state government had yet to gain access into the premises.
"We plan that by May 27, 2017, we should be able to invite Mr. President and other people to that Presidential Lodge for the final banquet and dinner to mark [email protected]
"As we speak, we have yet to gain entrance into that place and this is frustrating our programme. The approval of Mr. President should be honoured and the agencies concerned – the Federal Ministry of Works and Housing and the security services – should honour the promise made by Mr. President," Ambode stressed.