Ekiti: I don't need Police, DSS protection again says Fayose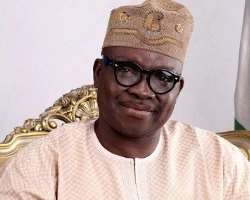 Ekiti State Governor Ayo Fayose on Wednesday declared that he does not need the officers of the Nigeria Police and the Department of State Services (DSS) to give him protection again.
He called on the Federal Government to withdraw the police and DSS men accusing the two security agencies of working for the All Progressives Congress (APC)-led Federal Government.
Fayose made the outbursts during this year's International Women's Day celebration held at the Oluyemi Kayode Stadium in Ado Ekiti, the state capital.
He boasted that the APC-led Federal Government cannot capture power from him in the 2018 governorship election. Addressing a mammoth crowd that thronged Oluyemi Kayode Stadium, Ado Ekiti, venue of the rally, Fayose declared that he has the support of the people to defeat the APC and its federal might in the 2018 polls.
He also reiterated his support for the People's Democratic Party (PDP) National Caretaker Committee Chairman, Senator Ahmed Makarfi, saying he does not recognize the National Chairman, Senator Ali Modu Sheriff.
The governor dared the Federal Government to remove officers of the Nigeria Police and Department of State Services (DSS) protecting him saying 'I have local people behind me giving me protection.'
Commending Ekiti women for their support for his administration, Fayose announced an empowerment of N500 million to empower them in farming, petty trading and grassroots economy. Fayose also promised to elevate a female Executive Secretary who has few days to retire to the post of Permanent Secretary. He also announced a N2 million donation to a local female musician, Bukky to purchase state-of-the-art musical instruments.
He also promised to appoint a Special Assistant to coordinate activities of women in his administration. Fayose said: 'In the next local government election, we must produce one-third of women as councilors, one-third of women as chairmen, one-third of women as supervisors. The era of imposition has gone; our men must stop intimidating women.' But the governor used the forum to make some political statements in what seemed to be a campaign rally before the Independent National Electoral Commission (INEC) lifts ban on public campaign.
In a bid to prove his popularity, Fayose urged the crowd to bring out their voter cards and show them to the Acting President, Prof. Yemi Osinbajo, Senate President, Dr. Bukola Saraki, Aso Rock Presidential Villa and INEC. Fayose said: 'Nobody can take Ekiti away from me; the power of the people is greater than the power of federal. We gave them 16-0 at the last election; we are going to give them 16-0 again.
'Now Ekiti women, show them your voter's cards, show INEC in Abuja your voter's cards that we are going to vote them out. APC professional riggers, look at their voter's cards. Let them see your cards at the Villa, I hope you are seeing their cards. 'Ekiti is a no-go area; we are prepared even if you call for election tomorrow. APC exists on pages of newspapers, they exist on propaganda but we have now matched them propaganda-for-propaganda.
'Show the performing Acting President, Prof. Yemi Osinbajo, your voter's cards. Show Senate President Bukola Saraki, your voter's cards. In Ekiti, we are behind Makarfi, we don't know Sheriff. 'Anybody moving against my government will be removed; anybody that wants to topple me will not finish their government. 'Tell them, I don't need their policemen, I don't need their SSS. Let them come and remove their policemen and SSS. I don't want APC police, I don't want APC SSS, these people are my police.'
Speaking on PDP factional crisis, Fayose said: 'On what is going on in PDP, fear not he who laughs last, laughs best. We are not for Sheriff, we don't believe in Sheriff. Don't be worried at all.' Others who addressed the rally include Fayose's wife, Feyisetan; Deputy Senate Minority Whip, Senator Biodun Olujimi and Niger Delta female activist, Annkio Briggs. – Daily Times.