EUROPE MARKETS DOWN ON DEBT FEARS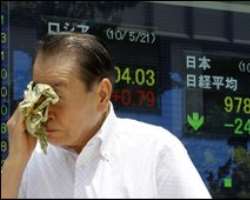 The Nikkei saw its biggest weekly fall for more than a year
European markets have lost ground on fears that the region's debt crisis could spread around the world.
Germany's Dax share index lost 1% in the first hour of trading, while London and Paris markets were down 0.7%.
Earlier, Japan's Nikkei index fell by 2.5%, while markets in Singapore, Taiwan and Australia also retreated.
The sell-offs come after Wall Street's benchmark Dow Jones tumbled by 3.6%, in its largest one-day decline since February 2009.
"Europe has certainly not been talking with a unified voice, which casts some doubt about the way this sovereign crisis will be handled," said Luc Van Hecka, chief economist at KBC Securities.
"If you put, on top of that, a bit of less enthusiastic support for a growth scenario, you get a correction."
Stock markets extended their losses as a European Union taskforce of finance ministers prepared to meet in Brussels to brainstorm ways of preventing a repetition of the financial crisis in Greece.
In another development, Germany's Bundestag is expected to vote shortly on a 750bn-euro ($940bn; £650bn) package agreed by the European Central Bank (ECB) and International Monetary Fund (IMF) earlier this month to calm financial markets.