UN Security Council Nigeria, Cameroon, other African countries focusing on Boko Haram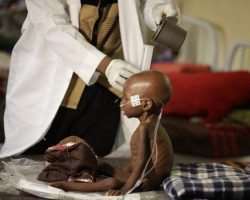 The U.N. Security Council on Friday kicked off a visit to spotlight Africa's worst humanitarian crisis as millions face hunger amid the Boko Haram insurgency in Nigeria and the Lake Chad region.
"We came in order to show that this will no longer be a neglected crisis," British Ambassador Matthew Rycroft told reporters.
One question in the aid response is the United States, which pledged no funding for the Nigeria crisis at an international conference in Oslo last week co-hosted by the United Nations. The U.S. is the world's largest humanitarian donor, but U.S. officials have said the Trump administration is proposing a 37 percent cut to diplomacy and foreign aid budgets to help pay for increased military spending.
The U.N. has launched a $4 billion aid appeal for the Nigeria crisis and similar ones in South Sudan, Somalia and Yemen. It was not clear how much the U.S. has pledged.
The U.S. has indicated it is "very ready to donate" under Trump, U.N. humanitarian chief Stephen O'Brien said during a visit to Kenya on Friday, and he suggested it may not have pledged yet because of its budgetary cycle. The Trump administration's budget plan is expected this month.
The Security Council began its visit in Cameroon with meetings with top officials and an encounter with the multinational force fighting the Nigeria-based Boko Haram extremists.
Council members also plan to go to Chad and Niger, then on to Nigeria, where they are expected to visit a camp for people displaced by Boko Haram.
On Friday, officials said three suicide bombers killed themselves and set fuel tankers ablaze in Maiduguri, the birthplace of Boko Haram and the center of Nigeria's military efforts to counter the group.
In Nigeria, Boko Haram's seven-year uprising has killed more than 20,000 people and driven 2.6 million from their homes. Now the group has moved into neighboring countries.
At the Oslo conference, the U.N. humanitarian chief said 14 countries had pledged $672 million over the next three years to prevent a famine in the four countries around the Lake Chad basin.
Security Council members who pledged were France with $14 million, Italy with $31 million, Japan with $48 million and Sweden with $31 million.
___