Wike Accuses Inec Of Teaming Up With Apc To Rig 2019 Elections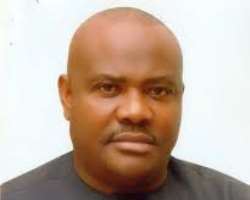 SAN FRANCISCO, March 04, (THEWILL) – Governor Nyesom Wike of Rivers State says the Independent National Electoral Commission, INEC, is collaborating with the All Progressives Congress, APC, to rig the 2019 general elections, but declared that such plot will not succeed in Rivers.
Speaking on Saturday during a thank-you visit to Etche LGA for their support to the PDP during the rerun election, he announced the construction of Odufor-Akpoku-Umuoye Road as a reward to Etche people for voting massively for the PDP during the Etche/Omuma Federal Constituency supplementary poll.
Wike, while alleging that "INEC is planning to rig the 2019 General elections," said; "they claim they are re-deploying the 23 Electoral Officers in the state. But we have authentic intelligence report that INEC has consulted APC and they plan to post pliant Electoral Officers from APC states to Rivers State.
"These pliant Electoral Officers being handpicked from APC states are to help in rigging the elections in 2019."
He maintained that no level of fraudulent postings by INEC to Rivers state will lead to a favourable ground for rigging elections.
"If they like, let them post their fathers to Rivers State, we will resist any attempt to rig the 2019 elections in the state. Our people will remain vigilant.
"They can rig in another state, certainly not Rivers State. For us, we must elect our representatives through the democratic process. Nobody will intimidate us," the Governor said.
He pointed out that if INEC planned to re-position the electoral system, such reform must start from the top, asserting that reforms from the bottom smacks of hypocrisy.
"The head is rotten. You have to cut off the head. They should first cut off the head before coming down to the lower rung of the ladder," he said.
The Governor stated that nobody died during the February 25, 2017 Etche/Omuma elections because security agencies acted professionally.
He pointed out that once security agencies follow electoral guidelines, elections will hold peacefully and the actual representatives of the people will always emerge.
While commending the people of Etche for standing firm during the supplementary election, Wike assured them that they will always benefit from his administration.