RED BULL'S SEBASTIAN VETTEL TO CHANGE CHASSIS IN TURKEY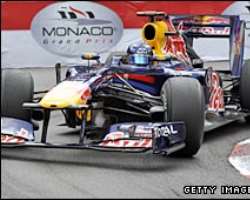 Vettel came second in Monaco behind team-mate Mark Webber
Red Bull's Sebastian Vettel will race on a different chassis at next week's Turkish Grand Prix after a defect was found on the one he used in Monaco.
Vettel complained of handling problems during the Monaco race, where he came second, and a post-race inspection revealed an unspecified flaw.
Team boss Christian Horner said the change to a chassis used earlier in the season was a precautionary measure.
"We found the chassis had a minor defect," said Horner.
"It looks as if it is an issue that deteriorated during the race in Monaco."
Vettel, 22, is second in the drivers' championship behind Australian team-mate Mark Webber, who has won the last two grands prix, in Spain and Monaco, from pole position.
German Vettel is level on 78 points with Webber but the Australian leads by two to one on race wins.
Horner said the problem with the chassis was detected in the post-race inspection back at the factory and tallied with comments Vettel had made about his car's handling during the previous race.
Webber finished second to world champion Jenson Button in Turkey last year, with Vettel third.
The Red Bull drivers are favourites to win the title this year, with the team already leading the constructors' championship, 20 points ahead of Ferrari.