Re: Theft of Paris Club Refund: Saraki Claimed He Borrowed N5b from Dangote To Fund Buhari's Election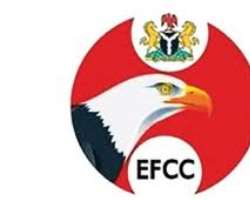 The attention of the Economic and Financial Crimes Commission, EFCC, has been drawn to a story entitled, 'Theft of Paris Club Refund: Saraki Claimed He Borrowed N5b from Dangote to Fund Buhari's Election' which appeared in the online news portal Saharareporters today Friday March 3, 2017. The report quoting an unnamed EFCC agent claims that Senate President Bukola Saraki and some state governors embezzled billions of Naira from the London/ Paris Club refund.
Specifically, it alleges that Mr. Saraki received about N3.5billion from the so-called slush fund, and colluded with some governors to launder N5 billion out of the funds to multi-billionaire businessman, Aliko Dangote, ostensibly as refund for supporting the campaign of President Muhammadu Buhari.
The Commission wishes to dissociate itself from the report, as no official of the EFCC was authorized to speak with Saharareporters on the said story or on any issue affecting the investigation of the Paris Club refund.
The Commission had previously issued a statement that its investigation is at a preliminary stage, and promised to brief the media subsequently. But it seems a section of the press is impatient and will pre-empt the investigation with spurious claims.
Anyone familiar with the operations of the EFCC would know that it is not the standard procedure for the Commission to give prior notices or make announcements ahead of the arrest of suspects. It is also not the EFCC's style to obtain presidential directive before an arrest is made. To this extent, it beggars reason for Saharareporters to claim that, "A senior EFCC agent disclosed that anti-corruption officials were on the verge of arresting Mr. Saraki and his accomplice, a former MD of his late father's bank, Robert Mbonu. The source said EFCC operatives paused when they were told to wait until President Buhari returns from his vacation on February 6".
For the umpteenth time, the EFCC wishes to implore the media to be circumspect and confirm their reports before publication as no useful purpose is served in publishing inaccurate information that ends up scandalizing individuals and jeopardizing ongoing investigations.
Wilson Uwujaren
Head Media & Publicity
3rd March, 2017