Osinbajo directs oil companies to relocate head offices to Niger Delta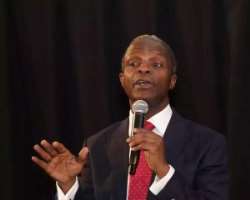 Acting President Yemi Osinbajo has  asked all international oil companies operating in the Niger-Delta region  to relocate their head offices  to the zone.
Most IOCs, including Shell, Mobil, Chevron, have their major operations in the Niger Delta Region while their head offices are Lagos.
Osinbajo, gave the directive at a Town Hall meeting in Uyo, Akwa Ibom State capital on Thursday, said it was meant to  to mitigate tension in host communities.
The acting President visited the state in   continuation of his visits to the region to dialogue with stakeholders on how to restore peace and security in the region which has been bedevilled by militancy since 2015.
Osinbajo asked the minister of state for Petroleum, Dr Ibe Kachikwu to begin the process of engaging the international oil firms to ensure the directive is adhered to since it was the right thing to do.
 He disclosed that, the Ministry of Petroleum is also working with major oil companies on several initiatives including; working on illegal refineries to establish modular refineries to achieve the desired result.
He also revisited the issue of  Federal Government amnesty programme for ex-agitators.
 Osinbajo said that the Ministry of Petrolum and Amnesty office are working with the state governments of the region on providing the benefits to young people in the states.
On the Ibaka deep Sea port project, he said that the government placed much premium on it and it was   seriously committed to its realization.
 "Indeed as a matter of fact, in the 2017 budget there is already a provision for the Ibaka port. There is already N1billion provision. It is a matter we take seriously to partner with the Akwa Ibom State Government", he said.
Earlier, Governor Udom Emmanuel appealed to the Federal Government to integrate Akwa Ibom indigenes who were left out in the amnesty programmes, as well as stressed the need for the reactivation of the Aluminum Smelter Company (ALSCON) at Ikot Abais local government area of the state to create more opportunities for the people.
He said, "With facilities we have in ALSCON, we cannot see it anywhere in Africa; from the services, communication to power generation you can create seven profits centres".
Governor Emmanuel, while commending Prof. Osinbajo for the visit, further solicited the support of the federal government for the completion of the maintenance, repairs and overhaul (MRO) facilities at the Akwa Ibom International airport to assist repairs of aircrafts assuring that, any financial assistance for the completion of the MRO will be refunded in no time from revenue generated from the repairs of aircrafts.