Buhari should take two more years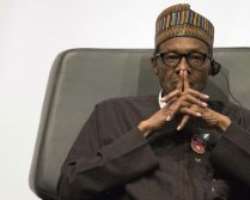 AT the risk of being termed a "mischief maker", I think it is very crucial to draw parallels between President Muhammadu Buhari and Acting President Yemi Osinbajo's handling of the nation's top executive job, at least, to show the importance of mindsets, style and personal dispositions in leadership. The Presidency says we should not do this, but I am sorry, I will. That office does not belong to the current (temporary) occupants.
When Reuben Abati was President Goodluck Jonathan's spokesman, he once rather foolishly referred to some former public officeholders who were critical of his boss as "a loosely bound group of yesterday's men and women". Today, he is out in the cold and struggling to claw his back to relevance as an opinion writer. President Buhari Meanwhile, some of those he hurled insults at are back in the corridors of power and Abati has for two years now been a "yesterday's man"! Such is life. I have to again commend President Buhari for not creating a power vacuum when he rushed off to London. Unlike the late President Umar Yar' Adua, he obeyed the constitution and voluntarily transferred power to his Deputy, Osinbajo. Buhari has always shown a very amiable disposition to his deputies by giving them freedom to act whether he is on seat or unavailable. We saw this in his relationship with the late Major General Tunde Idiagbon.
Acting President Osinbajo's stint so far has exerted salutary effects on the polity because Buhari's facile transfer of power created an atmosphere for him to function effectively. Those who have argued, noisily, that whatever Osinbajo is doing is still part of the Buhari Presidency are begging the issue. They are arguing against themselves because no one has said anything to the contrary. It is a joint ticket, and until nature decides otherwise it is very much the Buhari Presidency. All we are saying is that the way the Deputy has handled the steering is much smoother.
We, the worried passengers, can now afford to relax and doze off, unlike the time Buhari was driving it. The Daura General was knocking down other road users and driving some of them into the bush because he felt he was the only person entitled to use the road! Buhari came into the Presidency with a wounded psyche and a heart full of fresh injuries and old scars: his regime as a military dictator was overthrown and he was ignominiously dumped in jail. When General Sani Abacha rehabilitated him with the post of Executive Chairman of the Petroleum Trust Fund, PTF, a new government headed by President Olusegun Obasanjo maliciously scrapped it to spite the memory of Abacha.
Furthermore, Buhari ran for president three previous times and lost to the candidates of the People's Democratic Party, PDP. He always came out believing he was "rigged out" because he did not see Nigeria beyond the narrow confines of his Northern Muslim supporters. After losing the third run, an exhausted and frustrated Buhari wept profusely and said he would not run again. But the insistent prodding of his ardent supporters made him cave in, but with the threat that if the 2015 elections were "rigged", then the "monkey and baboon" would "soak in blood".
Fortunately for him (and the Nigerians who would have lost their lives) Buhari had in President Jonathan a leader who confessed he was neither a "general" nor a "Pharaoh". When Buhari assumed power as an elected President, he was here to fight. He fought the PDP and officials of the Jonathan regime and all those connected therewith. He fought those who did not vote for him, and they fought back with renewed militancy in the creeks and daredevil protests in the streets of South East and South-South. Meanwhile, an outbreak of armed Fulani militias masquerading as "herdsmen" was killing and displacing mainly non-Muslim communities and the President and the armed forces he controls refused to protect Nigerians.
Instead, Buhari was determined to create grazing reserves for his ethnic kinsmen all over the country, including the areas where they had no ethno-cultural roots. Buhari went round the world, calling Nigerians criminals and corrupt crooks. Any surprise our people are being attacked in South Africa? He foisted a command-and-control civilian dictatorship and jettisoned the constitutional principle of Federal Character to give out national goodies to his kinsmen and fellow Northern Muslims to the detriment of other Nigerians.
These were the things that made the past 21 months hell in Nigeria under Buhari's thumb. The economy, which was already shaky when he took over, nosedived. The Naira went from N197 to $1 to N560 to $1. There was no direction for the economy, and the armed forces were needlessly mobilised to fight on so many fronts that the Army decided to recruit 17,000 more personnel this year alone. Unarmed protesters whom the regime saw as its enemies were shot. Amnesty International says 1967 people were killed under Buhari's watch.
Osinbajo does not share the wounds in Buhari's heart. His shuttle diplomacies to the Niger Delta and South East have calmed down the populace and there is no further report of economic sabotage in the creeks. Nigerians recently rallied against the regime: no one was shot or even arrested. Instead, Osinbajo gave them his ears. The Acting President cooled the polity when he submitted the name of Walter Nkanu Onnoghen to the Senate for confirmation as the Chief Justice of Nigeria, CJN, which Buhari refused to do because he wanted to impose another Northerner. Osinbajo took measures that, so far, have buoyed the value of the Naira to N450. The difference is clear, and you say we should not compare!
A change in style goes a long way! There is an atmosphere for better leadership and governance under Osinbajo. It's better our "hale and hearty" President keeps "resting" in London for the next two years and three months. May Buhari survive and return on May 29th 2019 to hand over to the next President.
Ocherome wrote in his column in  Vanguard Newspaper
Disclaimer:

"The views/contents expressed in this article are the sole responsibility of the author(s) and do not necessarily reflect those of The Nigerian Voice. The Nigerian Voice will not be responsible or liable for any inaccurate or incorrect statements contained in this article."