Obama making a return to politics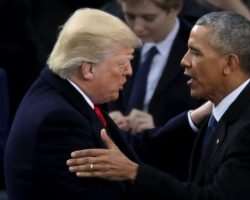 Barack Obama made history by reportedly signing the biggest book deal for a former president Tuesday, but it was the future that was on his mind, according to one of his good friends. After barely more than a month into being out of professional politics, Obama was set to make a triumphant return to lead a wing of the Democratic Party in the era of President Donald Trump, former Attorney General Eric Holder said  Tuesday.
"It's coming. He's coming," Holder told members of the media. "And he's ready to roll."
The former president will be a more visible part of the effort," Holder declared.
In particular, Holder said Obama could work in some form with the National Democratic Redistricting Committee that works to combat gerrymandering and describes itself as "an organization of Democratic leaders enacting a comprehensive, multi-cycle Democratic Party redistricting strategy over the next 5 years and beyond." Holder became chairman of the group at Obama's behest.
While Obama did not immediately confirm Holder's proclamation, the video message that he and first lady Michelle Obama shared on Inauguration Day last month said in part that they would "now rejoin all of you as private citizens."
Recent past presidents have dabbled in politics after leaving office, such as President George W. Bush's participation in the presidential campaign for his brother, former Florida Gov. Jeb Bush, but aside from that his political appearances have been relatively scant.
Likewise, former president Bill Clinton has supported the political ambitions of his wife, former Secretary of State Hillary Clinton, as well as made appearances on behalf of the Democratic Party, but he has largely stayed out of the political arena. In that respect, what Obama has planned to do so quickly after office is all but unprecedented for a recently removed president.
That quick return could be inspired in part by Trump, who Holder predicted would help return Congress to the Democrats after the mid-term elections. Aside from that, Trump has blamed Obama for helping to organize town hall protests against Republicans and implicated the former president's aides in the recent leaks from the White House. Trump also blamed Obama for the "mess" he inherited by taking over the White House.
"It's a mess. At home and abroad, a mess. Jobs are pouring out of the country," Trump said in a press conference earlier this month.
Trump's comments coupled with similarly acerbic words from Obama make the former's president's return to politics all the more interesting as the Democratic Party continues its resistance to the new president.