Niger State Commissioner Expresses Optimism on Gov. Sani Bello's Restoration Agenda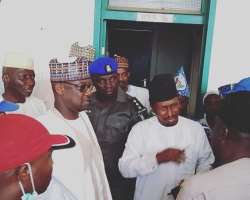 Niger State Commissioner of Health, Dr. Mustapha Jibril has expressed optimism on Governor Abubakar Sani Bello's Restoration Mission and Agenda noting that "my Governor has redefined leadership, governance and political representation in Niger State" adding that, "it is gradually getting clearer that, we now have a leader who understands the true value of serving those who gave him the mandate".
Dr. Jibril said "i do not know how to express my joy and happiness of having the privilege of serving Niger State and Nigerlites under the progressive, accountable, pro-people, service and prudent leader like my Governor and Boss, Alhaji Abubakar Sani Bello, he said on Wednesday, 1st of March, 2017 after Mr. Governor's mid-term assessment of projects in Magama and Rafi Local Government Areas of the state, respectively.
Earlier Yesterday, Mr. Governor's Chief Press Secretary, Mallam Jibrin Baba Ndace had in a press statement disclosed that, Niger State Governor, Alhaji Abubakar Sani Bello warned all public servants in the state that, the style of governance has changed which is why his administration has zero tolerance for indolent workers.
According to Mallam Ndace, the statement was made by Mr. Governor while reacting to the poor state of hygiene at Shehu Shagari Hospital, Nasko, in Magama Local Government area of the state.
In Rafi Local Government, Mallam Ndace disclosed that, Governor Abubakar Sani Bello noted that, regarding Local Government Councils Allocation, his administration has been vindicated by the decision not to tamper with Local Government Allocation.
The CPS added that, Mr. Governor has decided to focus the attention of his administration by ensuring that, development and dividends of democracy reaches the people at the rural areas, who have remained neglected in the past, despite that, they constitute a lager percentage of the State's population, whose demands from government are only basic amenities to make life more easier.
As the Governor's mid-term assessment tour of local governments is aimed at enabling Mr. Governor and his Team have first hand Information from the people at the grassroots level ; their challenges, developmental priorities especially, with a view to addressing them, Dr. Jibril has pleaded and called on Nigerlites to pray, support and most importantly, cooperate with Mr. Governor's initiative to achieved the desired results, he stressed