CBN Okays Executive Management Appointments In UBA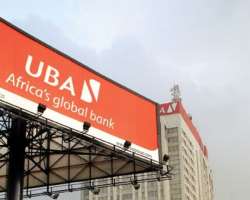 ….Okays Odozua As GMD, Osadolor as DMD And 3 New Executive Directors.
San Francisco, May 20, (THEWILL) - The Central Bank of Nigeria (CBN) has approved the recent executive appointments in United Bank for Africa Plc. It confirmed early this week, the appointment of Mr. Phillips Odozua as the Group Managing Director, effective August 1, 2010 as announced by the Board of the pan-African financial services group recently. He takes over from Mr. Tony Elumelu who is retiring from the bank by July 31, 2010 on account of the recent CBN Policy which limits the tenure of bank CEOs to 10. Elumelu retires from UBA after 13 years as CEO; a period of remarkable growth of the institution and reward to stakeholders.
Other appointments made by the bank to strengthen executive management and endorsed by the CBN include that of the elevation of the bank's erstwhile Executive Director and Chief Finance Officer Mr. Victor Osadolor to the position of Deputy Managing Director and the appointments of 3 new executive Directors; Messers Kennedy Uzoka, Femi Olaloku and Ifeatu Onejeme. Uzoka is now Executive Director, Resources, Olaloku, Executive Director and Group Chief Operating Officer and Onejeme Executive Director, Corporate Banking. Whilst the appointments of Kennedy Uzoka and Femi Olaloku take immediate effect, the others will be effective from August 1, 2010.
Extending his congratulations to the appointed executives, the Group Managing Director/CEO of UBA Mr. Tony Elumelu said that the CBN approvals is a mark of confidence on UBA and accentuates the robust succession planning capabilities of the bank. "It is a tribute to our longstanding commitment to nurturing talent and ensuring an orderly succession planning capabilities. I am humbled and pleased that I am able to leave the Group in the care of such capable and seasoned colleagues who will, with the continuing support of our stakeholders lead UBA to even greater heights," he stated.
The appointed executives of UBA are vastly experienced bankers and extremely well educated going by their respective profiles. Philips Odozua is seasoned professional who has operated at executive management level for over 10 years, initiating and implementing strategic policies across the industry. He holds a 1st Class degree in Civil Engineering and an MBA (Finance) from the University of Lagos. The alumnus of the Advanced Management Programme (AMP) of Harvard Business School and has over 20 years banking experience spanning all facets of the profession.
Victor Osadolor on his part is a Fellow of institute of Chartered Accountants of Nigeria and has 22 years in Risk Management, Finance Operations and IT. The Alumnus of Harvard Business School and International Institute of Management Development (IMD), Lausanne, Switzerland has been Executive Director since 2003 holding several high profile appointments in UBA since joining the bank.
Kennedy Uzoka as Executive Director, Resources will oversee Corporate Services, Corporate Communications, UBA Academy and Human Capital Management units of the bank. He is well educated and has garnered over 20 years working experience covering Marketing, Strategy and Resources management in the Group. He was best graduating student in Civil Engineering whilst at the University of Benin and is an Alumnus of some of the best postgraduate institutions such as Harvard Business School, Institute of Management Development (IMD) Lausanne Switzerland and the London Business School.
Ifeatu Onejeme is a First Class degree graduate in Accountancy and Fellow institute of Chartered Accountants of Nigeria. The alumnus of Wharton Business School of the University of Pennsylvania, University of Chicago Graduate School of Business and Lagos Business School has put in over 23 years experience in banking and financial services.
Olaloku holds a B.Sc degree in Civil Engineering and Masters in Business Administration from the University of Lagos. He has spent over 19 years of Banking and Financial Services excelling in several high profile positions in Operations Controls and Information Security, IT, Operations, Global Shared Services and Customer Service.