Gov. Ugwuanyi urges FG to upgrade Enugu Water Scheme …as Minister orders Adada Dam contractor back to site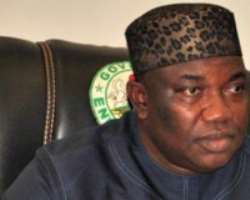 Governor Ifeanyi Ugwuanyi of Enugu State has appealed to the federal government to assist the state towards the upgrade of the Enugu Urban Water Supply Scheme to meet up with the water needs of the people of the state.
Gov. Ugwuanyi made the appeal when he played host to the Honorable Minister of Water Resources, Engr. Suleiman Adamu Kazaure and his entourage, at the Government House, Enugu.
The Minster and his team were in Enugu State to inspect some water project sites with a view to completing some of them in the people's interest.
The governor, who expressed delight at the visit, noted that the gesture was in line with the determined efforts of his administration to provide and significantly improve the supply of drinkable water to all parts of the state.
He therefore appealed for the urgent intervention of the federal government through the Water Resources Ministry to address the challenges of inadequate water supply in the state for the benefit of the people.
Gov. Ugwuanyi pointed out that the Water Scheme, incidentally, 'was executed with the support of the defunct Petroleum Trust Fund (PTF) then under the Chairmanship of His Excellency, President Muhammadu Buhari', and with the present Water Resources Minister as the Principal Consultant to the establishment.
The governor stated that the equipment is obsolete and in advanced state of disrepair, stressing that the state government cannot afford the huge maintenance costs with 'its meager finaniacal receipts'. He added that erosion and other environmental factors have continued to damage the facilities, disrupting the operation of water supply.
Earlier in his address, the Minister informed the governor that the federal government has prioritized the completion of Adada Dam Water Scheme, which will supply water to the University of Nigeria Nsukka (UNN) and its environs and has ordered the contractor back to the site, adding that it is the intention of the government to complete uncompleted water projects in the state before commencing new ones.
'It is our desire that we finish as many as possible, our uncompleted projects to make sure that the investment that was made before will be completed. Adada Dam Water Scheme is a top priority project for us', the Minister said.