Still on the 'Indian Garri'... We're completely out of sync with The Global flow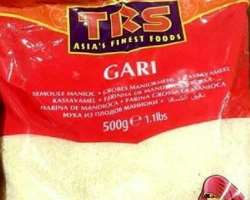 Very recently, Nigerian news readers were inundated with a picture of a packaged Garri in a plastic bag. It was labeled TRS GARI -Asia's Finest Food'. Along with the picture was a compelling opener by the author of the post:
"This is sincerely an absurdity of monumental proportion and a shame! Nigerian government and regulatory agencies (if they still exist) should cover their faces in shame. I would like to ask: how much were you paid in bribe? Is this how far we are mentally bankrupt?
We are indeed in a big mess in this country. Can you imagine imported gari from India now selling in shops in Nigeria, and the food and drink regulatory body, NAFDAC, approve this?
Habaaaaaa, Gari, too?"
The reactions and comments on social media, blogs and online newspapers were in torrents of disappointments and government bashing.
I sincerely think the whole noise is a deflection of the real issue. In my opinion, I think we have mentality issue. Most of us do not critically think, otherwise, we could have creatively asked some pertinent questions: What if the producers sought to legally register the product in Nigeria, would the NAFDAC have had any reason(s) or moral ground(s) to have refused the products brought to Nigeria for sale? What would have been their ground(s)? How many of the people making the noise knows that the Asians produce as well as eat Cassava products as we do? Would they have ever thought that China is a huge Cassava producer? That these countries; Thailand, Indonesia, India, the Philippines, Viet Nam, and Malaysia are producers too? Everything cassava derivatives is not new to them too, on the referenced package, there is a rider under the name of the product –"Asia's Finest Food".
Again, whatever happens to the global trend -Economic globalization which the whole world is catching on daily? It is defined as 'the increasing economic integration and interdependence of national, regional, and local economies across the world through an intensification of cross-border movement of goods, services, technologies and capital'.
NAFDAC Director, Special Duties and Media, Abubakar Jimoh, said that preliminary investigations revealed that the product was produced in UK, shipped to Ghana and now being sold in Nigeria. So, other than the denial that they never approved/evaluated the product officially, is there any crime in a product that was produced for exportation to countries of target audiences? This product in reference (Garri) was not even produced in India, as if it mattered where a product was made before it could/would be acceptable for Nigerian consumption. Otherwise, why are our shops still stocked of cocoa derivatives like foreign chocolates, pharmaceutical products when we are a cocoa producing country? Why do we still depend on refined oil products when we produce the crude here in Nigeria?
We're surely sound asleep, holding endless vigils, casting and binding 'recession spirits' while the rest of the world is perfecting devices that make their lives and living spaces more comfortable and easier. Instead of us thinking like everybody else about how to plug into the ongoing process and system of globalization, we are everywhere 'hating' each other on the basis of the past election and our selfish leaders. We're completely out of sync with the global flow.
Am scared of the impending reality of our future generations in that they may not have a Nigeria of their own or remain in the territory of Nigeria as a people or nation in few years to come! Why? Nigeria with her natural wealth could become a target of acquisition by the world powers given how we have been divesting of our land rights to foreign investors in the name of Agricultural Transformation. Today, Chinese farmers are having hectares of lands all over for plantations and farming, right in the heart of Nigeria and her states! So, question is, what is the content of the deal that was sealed? Who signed these deals on behalf of the people? Under what undertakings and agreements were the deal signed? What is the life of the deal, 10, 20, 50, 100 or more years? Governors running overseas for loans, who knows what the contents of the deals are? If they (the Chinese) own a land that they have/would transfer(ed) to their children and grandchildren, after staying there for over fifty years, won't they fight for the right of land as fellow Nigerian-Chinese? You will think it is weird, right? Wait till there is Chinese town in every town of Nigeria.
For a few dollars more, I don't see people resisting the filthy lucre of selling their lands to the Chinese and any foreigner for that matter. Now that they've started acquiring hectares for agriculture across the country, they have technology that we're blissfully ignorant of the amazing capabilities. Who says they've not discovered treasures we don't even begin to think we had?
Britain went to war with the natives of the Falkland Islands laying claims to a small island many thousands of miles from the UK. Why would ours be different with the way we've been sold out by our past and current leaders?
These are the issues we should be concerned with. We need to be creative in thinking and in survival. We need to start taking advantage of the shrinking terrain of the world's production and marketing, economically and financially to benefit ourselves individually and ultimately, the nation in general. We should look inward, purge the foreign mentality; wannabe life-styles in all ramifications. Very recently, a ridiculous Nigerian News headline says "Lagosians Groan as KFC Outlets is Shutting Down". Is KFC our natural menu? We bunch of Wannabes! How ridiculous! Ridiculous as seeing a fellow Nigerian who traveled to Dubai for few weeks and returned with American accent, what's all that for?
My point is that individually, we can help our folks to shift their attentions from what the government should or should not do. Some of our folks are still carrying the pains of the loss of 2015 election, to them, the current administration will never do good. All they do is find faults where there is a little window of opportunities. The political discourse on social media blinds them to reality and inherent opportunities of this painful economic recession.
Recently, I asked that I be sent Kulikuli from Nigeria. I got a huge bag of it as desired. Sadly, I could only eat few of them before dumping them into the garbage. Why? Chews at every bite were grains of stones! Isn't how Kulikuli had always been from time immemorial? "Kulikuli ma npa'kuta ni now", so my friend responded to my complaints! But hey; critically thinking, why is it still like that, stoney and sandy? Must Kulikuli still be produced manually the way it was in 1800, even in today's 2017? If the 'oyinbos' who came to buy cocoa in West Africa could get us chocolate drinks/foods, candy, medicine etc, why can't someone think of refining peanuts to acceptable/chewable kuli kuli?
Were it the developed world producing Kuli Kuli, there would have been more flavors of kuli kuli; strawberry-kuli kuli, lemon-kuli kuli, Cranberry-kuli kuli, Choco-Kuli kuli. If the China or any of the industrialized countries wake up to see the marketing opportunities in kuli kuli, felas will start a campaign to ban the importation, they will complain and wonder 'what is this government doing'? They will worry about the Customs and the NAFDAC!
Time to sync with the global flow is now, not tomorrow. The world is long gone, going and not waiting.
Deleola Daramola
Calsbard, California, USA

Disclaimer:

"The views/contents expressed in this article are the sole responsibility of the author(s) and do not necessarily reflect those of The Nigerian Voice. The Nigerian Voice will not be responsible or liable for any inaccurate or incorrect statements contained in this article."
Articles by Fay Deleola