Senate President denies snubbing Tinubu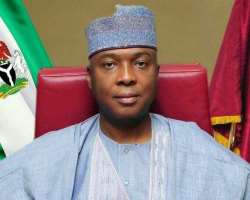 Senate President, Bukola Saraki has denied snubbing Bola Ahmed Tinubu at the inauguration ceremony of Akeredolu in Ondo State.
The Office of the Senate President has denied reports that Bukola Saraki snubbed APC national leader, Bola Ahmed Tinubu.
In a recent statement by the Special Assistant to the Senate President, Bamikole Omishore, Saraki denied snubbing Tinubu.
"On the video circulating social media that President of the Senate, Dr Abubakar Bukola Saraki allegedly snubbed one of the party leaders of APC, in the person of Bola Ahmed Tinubu during the inauguration of Governor Rotimi Akeredolu in Ondo State, that definitely did not happen.
"Senator Bola Ahmed Tinubu was granting an interview when Dr Saraki greeted him and others but Asiwaju could not respond well at that particular time.
"That is why Asiwaju called Saraki back and the Senate President replied with a courtesy and reminded him that he greeted him but didn't want to interfere with his interview," Omishore stated.
Saraki was at the inauguration ceremony of Gov Akeredolu in Ondo State alongside other APC chieftains.