EL-RUFAI, MADUEKWE, OTHERS JOIN PDP REFORM GROUP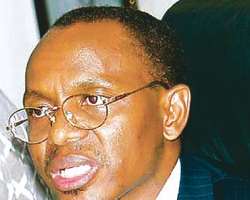 Former Federal Capital Territory Minister, Mallam Nasir el-Rufai
Loyalists of a former president, Chief Olusegun Obasanjo, on Thursday joined members of the Peoples Democratic Party Reform Forum in calling for the total dissolution of the party's National Working Committee of the party.
At an enlarged meeting of the forum in Abuja were the immediate past minister of Foreign Affairs, Chief Ojo Maduekwe; a former minister of the Federal Capital Territory, Mallam Nasir el-Rufai; and a former Minister of Aviation in Obasanjo's regime, Chief Femi Fani-Kayode.
Also present at the event were a former Attorney-General of the Federation and Minister of Justice, Chief Kanu Agabi; erstwhile minister of Transport, Abiye Sekibo; and Obasanjo's former special adviser, Prof. Julius Ihonvbere.
A former governor of Rivers State, Dr. Peter Odili; ex-minister of State for Justice, Alhaji Musa Elayo; Prof. Femi Otubanjo; and the immediate past National Secretary of the PDP, Chief Bernard Eze, were also in attendance.
All of them were not present when the forum first met in Abuja about a month ago.
However, the gathering also included some known opponents of Obasanjo like an ex-Speaker of the House of Representatives, Alhaji Bello Masari, and erstwhile president of the Senate, Chief Adolphus Wabara.
A party chieftain from Adamawa State, who craved anonymity, said he was leaving the venue of the meeting mid way because of the presence of those he described as the architects of the problems in the PDP.
Agabi presented a keynote address at the occasion, calling for a total reform of the PDP.
He said that it was unfortunate that the PDP had allowed governors elected on its platform to become lords who dissolve state and local government executives at will.
He said with what was happening in the party, the country was gradually moving from dictatorship of the military to the dictatorship of the civilian class.
In an unsigned communiqué issued at the end of the group's meeting, members repeated their call for the dissolution of the National Working Committee of the party.
They also said there was the need for internal democracy in the party, where members' view would be respected.
The reform group said that the finances of the party must be handled in a transparent manner.
However, in a swift reaction, the leadership of the party said the motive of the reform group was to seize control of the PDP illegally.
A statement signed by the party's National Publicity Secretary, Prof. Rufai Alkali, reads, 'The main thrust of their agenda is their appeal to various levels of authority within the party and government to dissolve the National Working Committee of the PDP, as presently constituted.'