Kourtney Kardashian, Kylie Jenner step out in some seriously inappropriate outfits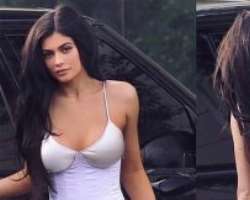 Kourtney Kardashian and Kylie Jenner sparkle at a Golden Globe Awards afterparty. (Photo: Axelle/Bauer-Griffin/FilmMagic)
No one has ever accused the Kardashian-Jenners of being conservative, but Kourtney Kardashian and Kylie Jenner have recently donned ensembles that seem pretty inappropriate for the occasions — even in their world. On Wednesday, Kylie stepped out in a barely-there outfit that consisted of a bustier, a flouncy miniskirt, and strappy stilettos. Clearly pleased with her look, the 19-year-old makeup mogul shared front and back snapshots of the skimpy ensemble and captioned the shot with a simple candy emoji.
Just to be clear, she was reportedly headed to a business meeting.
Then there was her older sibling, Kourtney, who headed out Wednesday night in a pair of sporty olive-green pants and a completely see-through top with a sexy black lace bra underneath. She was meeting Justin Bieber — at a church service.
Doesn't everyone dress like Kourtney Kardashian for church? (Photo: Maciel/AKM-GSI)
To be fair, she did have a large coat that she threw over her shoulders (perhaps in an effort to be more church-appropriate), but since it wasn't zipped, it didn't cover much beyond her arms and part of her shoulders. It was the second time she and the Biebs got their worship on together since she got back from Costa Rica. (ICYMI, Scott Disick left that vacation early and flitted off to Miami to party after getting into some sort of blowout fight with the fam.)
This is hardly the first time that members of this reality-star family have worn attire that was seemingly inappropriate for the activities at hand. Last Easter, Kourtney chose a see-through, lacy white top that showcased her bra beneath for a church service. It seems that flashing her bra is Kourtney's go-to church attire.
Kourtney Kardashian arrived for Easter service wearing this. (Photo: Splash News)
In April 2015, Kylie wore what basically amounted to underwear with a jacket to a family dinner. Seriously, the girl did not have any pants on.
Kylie Jenner sported this sexy number for a family dinner in 2015. (Photo: X17online.com)
But perhaps Kim Kardashian takes the cake for the absolutely most inappropriate ensemble when she wore a low-cut tuxedo-style jacket with her boobs well positioned and no shirt underneath to push North West around in a pram on the streets of New York City.
Kim Kardashian with baby North in a stroller in NYC. (Photo: Splash News)
It's hard to imagine where Kim could have been going with no shirt and her baby in tow, but if we had to guess, we'd say a business meeting or church.
Scroll back up to restore default view.
 Yahoo Celebrity: