I'm ready for marriage – Uti Nwachukwu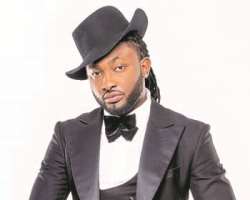 After his sexuality was questioned due to his close relationship with Alex Ekubo,  Uti Nwachukwu has shut down critics speculating that he is gay as he has just indicated that he is now in a very happy relationship and might walk down the aisle soon.
''I like the way she makes me feel. I blush every time I talk about her. Whenever I display my madness she knows how to calm me down. I don't feel chocked in our relationship. Even when I feel choked, it doesn't make want to run away from the relationship,' Uti revealed excitedly.
When asked how he spent the Valentine Uti said: ''I sent her a very romantic text message in the morning to spice up her day and the text got her real good. She was just blushing. Well, she is not in Nigeria so we didn't spend it together. For me here, it was work and more work. As an entertainer, we don't really celebrate festive periods because that's when our work gets serious.'
On plans for marriage, the OAP hinted that he is indeed looking forward to settling down and having kids: 'Marriage doesn't have to do with age but maturity. African mothers have to accept change and stop putting pressures on their children to give them grandchildren.  Women of nowadays want more; they just don't want to bear that title 'wife' alone. They also want to take charge and contribute immensely to the home. Who wants a woman that only paints nails and crosses her legs at home. I believe in 'flex well' and then 'calm down'. For me, I have 'flexed well'  now I am 'calming down' and getting ready to settle down.'