BEAUTY AND THE FEAST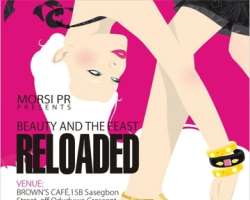 BEAUTY AND THE FEAST is Nigeria's finest, professionally driven Fashion, Beauty and lifestyle exhibition. It is a gathering of the most outstanding, unrivalled, style-imbued designers, fashion icons and beauty professionals under one roof to showcase the effulgence of Nigerian Fashion.
This year is going to be much bigger, as we are now in conjunction with 3 new style companies like White Stones Entertainment, Maestro Media &The Socialyte pr – All top of the range Style pr agencies.
Venue: BROWNS CAFÉ - 15B Sasegbon Street, Ikeja, GRA, Lagos.
Date: May 23, 2010
Time: 10.00am – 7.00pm.