PDP crisis: Sheriff reveals timeline to quit as National Chairman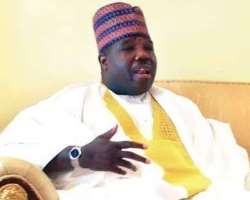 The National Chairman of the Peoples Democratic Party (PDP), Senator Ali Modu Sheriff, has claimed he will step down from the position after the party's National Convention.
He made this known while addressing a delegation of South West PDP at his office in Maitama, Abuja on Wednesday.
Sheriff also revealed that he would relocate to the party's national secretariat this Friday and that he had already transmitted all documents necessary for the re-opening of the PDP headquarters.
‎'We have no argument with anybody. The law is certain. Nigerians have spoken. Some of the people you see, they actually don't know where their villages are. They sit in Abuja and decide to make unnecessary statements.
'In the name of God, let's re-build this party. Don't divide the party. Let everybody unite in order to rebuild the party. I beg Fayose to respect PDP and the people of Nigeria. I beg him. Whatever you say today, posterity will judge you, so I beg him. ‎Let's tell Nigerians that our party is for all.
'I am not going to be chairman forever. I will leave office after the convention. We will do a credible convention. Whoever is against me should wait until after the convention,' Sheriff said.
The former Borno Governor, however, failed to give a date for the national convention. - Daily Post.