Fayose commends Buhari over Justice Onnoghen's nomination as substantive CJN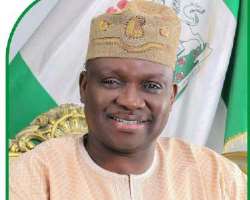 Ekiti State Governor and Chairman of the Peoples Democratic Party
(PDP), Mr Ayodele Fayose has commended President Muhammadu Buhari for
heeding to public outcry on the appointment of Justice Walter Onnoghen
as the Chief Justice of Nigeria (CJN), saying; "Even though the
President acted late, it is still commendable that he listened to
Nigerians by not allowing the judicial institution, which is the last
hope of the common man to be further bastardized."
The governor said "I waited till now to commend President Buhari
because I wanted to be sure that the letter seeking Justice Onnoghen's
confirmation was actually transmitted and read at the floor of the
Senate. Also, I needed to be sure that the letter did not get missing
at the national assembly like the 2016 budget, new items smuggled into
it or it gets padded on transit."
According to a statement issued on Wednesday by his Special Assistant
on Public Communications and New Media, Lere Olayinka, Governor Fayose
said; "Even though the name was forwarded by the Acting President,
Prof Yemi Osinbajo, the Acting President couldn't have done that
without the concurrence of President Buhari even though he is resting
in the United Kingdom."
While calling on the Senate not to waste time in confirming Justice
Onnoghen as substantive CJN, Governor Fayose appealed to the new CJN
to always bear it in his mind that there is another judgement in
heaven and ensure that the judiciary under him dispense justice to
Nigerians without fear or favour.
He said the judiciary, under Justice Onnoghen should help in
sustaining democracy by resisting the plot by the All Progressives
Congress (APC) led federal government to turn Nigeria to a one-party
state.
"Opposition is one of the major ingredients of democracy and any
attempt to kill opposition will spell doom democracy in the country.
The judiciary must therefore resist the APC sinister plot to deny
Nigerians their fundamental rights to freedom of association and
expression.
"Justice Onnoghen should strive to uphold a judiciary that will be
seen by all Nigerians as their last hope in practice and indeed," the
governor said.
Speaking further, the governor called for full enquiry into petitions
against Justice Okon Abang, whom he maintained was "a cancer that is
capable of destroying the entire judiciary in Nigeria if nothing is
done to curb his excesses."
He said a judge like Abang who was described by the Court of Appeal as
giving fraudulent judgments, speaking from both sides of his mouth and
acting like Father Christmas should not be allowed any space in the
judiciary.
"Therefore, I insist that the CJN should wade into Justice Abang's
fraudulent judgments with a view to showing him the way out of the
bench so that our judiciary can redeem its image," Governor Fayose
said.