PDP: CHOICES COME WITH CONSEQUENCES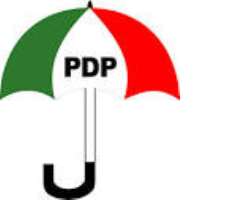 No matter how anyone may look at it, in life, we all have to make choices. In many cases, these are tough choices. The problem, often, is not in making these choices but in our preparations to face the worst, should these choices go bad (as they many a time do). All the choices we make or do not make come with their unique consequences!
On the 17th of February, 2017 the Court of Appeal gave an expected judgement which recognised the Ali Modu Sheriff's faction of the People's Democratic Party (PDP) as the "authentic" party faction. As expected, the Makarfi faction rejected the judgement vowing to proceed to the Supreme Court. Before then, one thing is sure, Modu Sheriff remains the party chairman whether we want to hear it or not!
Since its heaviest defeat in its history in 2015, it appears the party has moved from one crisis to another. It has had to cope with financial challenges, even its workers had a running battle with the party leadership over non-payment of salaries at some point. All these appear to be too much for a party that intends to play the role of opposition. The party leadership searched for solutions in the most unusual places. They, predictably, went into unholy alliances in a desperate attempt to save the party from implosion. Desperate times, they say, call for desperate measures. There are no good or bad decisions in politics as such. All that matters ultimately is what works. In times like these, inviting an arsonist when your house is on fire isn't a bad idea!
When the news filtered through sometimes last year the PDP's solution to its numerous crises is appointing ex-Borno state Governor, Ali Modu Sheriff, as its acting National Chairman, I was one of the first voices that spoke against the move. I wrote under the title, WHO STOLE PDP's THINKING CAP? Though, I agreed the party needed fresh ideas or inspiration from unusual places, to me, Sheriff will leave the party worse off than it was before!
Not long after the announcement was made, even his erstwhile critics in the party somehow found ways to support him. We were told to always see the positives in situations and stop dwelling on the past. We were told to mind our businesses, since the "APC fear him." Anyone that dared criticize the "strategic decision" the party has made in appointing Sheriff is bound to be an "APC agent." The "loyal supporters" of the party were quick to "apologise" for their previous wrong impression about their new leader. This is how short human memory can be. With that, I consoled myself. But little did it occur to the "loyal supporters" that their party lords who went to invite Sheriff could be wrong. Little did these innocent "loyal supporters" realize that the choice of Sheriff will come with some heavy consequences!
The, perhaps, unintended consequence the lions (according to Femi Fani-Kayode) never thought about was their underestimation of the ambition of Sheriff. Probably, no one told them of the ex-Governor's unnatural love for power. No one probably told them that like fried meat is to the cat so is power to Sheriff. No one informed them Sheriff can sacrifice his soul for power. No distance is too long to cover to acquire power for him. No depth is too deep as long as he strikes his gold. No height to higher than the skies for him to seek power. No amount is too much for him to spend on getting power. Power, by which I mean political power, is the only currency he knows and understands. This was the most clever choice available to the party lions. I will rather invite a thief to watch over my money than invite Sheriff to take power!
One of the events I watched closely when Sheriff's announcement was made was how the party's then spokesman, Chief Olisa Metuh, will respond to the development. I wondered if he would be the same person who will defend Sheriff on the allegations that he actually started Boko Haram. He never did. I guessed this was partly because he knew it will be difficult for him to reconcile his defence with his earlier views while Sheriff was still in APC in 2013!
With the party's brand in crisis, its media team went on a massive campaign to launder the new party leader's image. They denied he knew anything about Boko Haram. They placed the blame of the embattled Sheriff on APC's "effective propaganda." The party's Directorate of New Media, led by Deji Adeyanju, helped launder his image on Twitter. Those aware among them knew they were fighting a lost battle. No one was fighting the party, except the PDP!
Few days after the Court of Appeal judgement, one of the main actors, Governor Nyesome Wike of Rivers state granted an interview with Channels Television. I watched him say he regretted his decision to bring in Sheriff which he says is the only wrong political decision he's ever made. He also said he doesn't see himself working with someone like Sheriff.
After watching the interview, I came to two conclusions. First, Wike and his cohorts never had any idea of whom Sheriff was before going out on the suicide mission of appointing him. Secondly, Sheriff had become too difficult for him and his colleagues to control as they probably thought so things got really messy.
From Governor Wike's interview, I was reminded of the story of a man I met late last year. He got married in the first quarter of the year to a lady he had barely known (about 2 months). From my discussions with him, they probably met in an unholy place (a night club was my best guess). This man was so enamored with this lady's physical that nothing on earth could prevent them from getting married. In the teeth of opposition from his friends, relations and colleagues, he married this lady. Isn't she a woman of easy virtue? My new friend's reply was swift. Did a prostitute not wash Jesus Christ's feet in the Bible? Didn't Jesus say we should not judge? I guessed at that point, everyone around him knew his mind was made up.
Soon after they married, this man soon realized that a leopard don't change its spots. The lady will not give up overdrinking, keeping out late at nights and her flirtatious habits. My friend had thought she'll change all these after they got married, but to his dismay, she's gone uncontrollable. Before long, he started contemplating having a divorce. It was at that point I met this embittered man!
From the story above, I cannot but image how people's choices often come back to hunt them. In my 30 minutes or so of meeting him, I was left to wonder if: he just realized he got married to a whore; he came to his consciousness that the lady had an uncontrollable character; seeking a divorce will undo the damage already done to the relationships he had built over the years. If this man was looking well enough, he would have realized that he was living with the consequences of the choice he made less than a year ago!
The PDP seems to be in the same position with this man today. After listening to Governor Wike, I wondered if the PDP recently knew Sheriff to be a power monger or an opportunist. If they had done a little background check on Sheriff, the embarrassing situation the party find itself today at least would have been avoided.
This is not the time for the party to cry or trade blames for the wrong choice they collectively made. Some of us made the choice of supporting Buhari for President in 2015. While things look uncomfortable for us, we have accepted to live with the consequences of the choice we made. Those who are regretting they supported Buhari probably never did or are simply playing to the gallery. What makes a man is standing firm with the consequences of the choices one makes knowing they will serve as lessons for us in future. The party must live with the consequences of a poor choice they made!
Olalekan Waheed ADIGUN is a political analyst and independent political strategist for wide range of individuals, organisations and campaigns. He is based in Lagos, Nigeria. His write-ups can be viewed on his website http://olalekanadigun.com/ Tel: +2348136502040, +2347081901080
Email: [email protected], [email protected]
Follow me on Twitter @adgorwell