DUBAI WORLD AGREES DEBT DEAL WITH KEY BANKS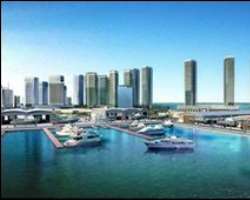 Dubai World's property businesses are heavily indebted
Dubai World, the state-owned investment vehicle, says it has reached an agreement "in principle" with most of its bank lenders to restructure debt worth $23.5bn (£16.4bn).
It added it would be left with debts of $14.4bn after the restructuring.
But the deal must still be approved by other banks that were not involved in the negotiations.
Dubai World stunned global markets in November last year when it asked for a six-month delay on debt repayments.
The terms of the restructuring, include converting $8.9bn of government debt into equity.
Analysis
Continue reading the main story
Ben Thompson Senior Middle East business reporter, Dubai
How do you pay back $24bn? That's been the big question here for the past six months. Across the city, it's been hotly debated, but few have an answer. Today's news could mean they have finally found it.
Negotiating with creditors has been a long and tedious process. The government bail-out in March reassured many, especially when it put itself at the back of the queue for repayment. But convincing local banks wasn't so easy. They were critical of what they saw as the preferential treatment given to foreign lenders.
The agreement is a step in the right direction, but it isn't yet a done deal. It involves just 60% of Dubai World's creditors. The rest still need convincing. Many suggest they could now sign up to the deal, wanting to draw a line under the whole affair.
But Dubai's financial crisis is far from over. Almost six months to the day that Dubai sent shockwaves around the world, there's still little confidence. There's also the matter of Dubai's overall debt burden. That currently stands at whopping $109bn.
The government of Dubai and Dubai World had tabled this offer to a committee representing its bank lenders in March after three months of negotiations.
"We are pleased that we have received unanimous support in principle… on the headline economic terms to our restructuring proposal," said Aidan Birkett, chief restructuring officer of Dubai World.
"This is an important milestone and reflects our efforts to achieve the best possible solution for all stakeholders.
"The proposal puts the company on a sound financial footing and reflects the continued support of the government of Dubai and its lenders."
Bond sale
The problems at Dubai World stemmed largely from its property development operation, Nakheel, which needed money to pay investors an Islamic bond.
The request for a halt of debt repayments stoked fears of a state default over sovereign debt.
But since February, Dubai has issued bonds worth $20bn to raise finance to support struggling firms. These were fully subscribed by neighbouring Abu Dhabi and the UAE central bank.