Will the 'Arab Spring' ever drift southward?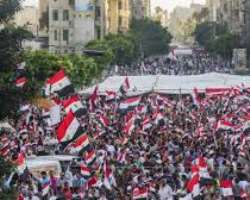 It is one of the ironies of life while people in comparatively affluent countries demand more accountability from their governments, the reverse has been the case in the backwaters of the world. Long before the peripatetic Tunisian grocery vendor, Muhammad Bouazizi, self immolated himself to trigger the Arab Spring, most indices pointed to Africa, south of the Sahara to lead the way in revolts to bring down the clowns that populate the region.
Africa may not have produced the worst despots known to man, but the continent sure has its fair share of despots whose reign of terror still rank among the world's worst. And, even at that, Africa south of the Sahara has been the worst offender. So far, not much has been done to divorce the clowns from their peacock thrones.
Sub Saharan Africa that produced the perennially-clowning Emperor Jean Bedel Bokassa, a former army sergeant who shot his way to power Central Africa Republic in before crowning his misrule by crowning himself Emperor in a record-breaking installation ceremony from which the former French colony is still reeling from. The region also produced Idi Amin Dada, another clown and barely literate Ugandan army commander who shot himself to power before he shot many real and imagined opponents to hold on to power.
The region is home to Hissen Habre, the former rebel who dictated the pace in Chad in the 1980's. Unlucky guy! Habre fled into exile in Senegal where he was held under protective custody for several year before being sentenced to a jail term for numerous abuses during his decade-long reign of terror! Sub Saharan Africa was home to Joseph Mobutu, better known as Mobutu Sese Seko, another clowning army commander who ruled Congo, which he renamed Zaire, with an iron fist.
Unlike their modern day photocopies, the despots of yore had bloodcurdling pastimes in common. One of them is the immense pleasure they derived from watching opponents being fed to crocodiles and lions in State House zoos! Or, when opponents cased in metal drums are dropped into the ocean from flying choppers! Another is that the tyrannical African rulers operated with direct support from former colonial masters. Little wonder that the world reasoned that the post-Cold War wind of democracy that blew across the globe in the 1990's would be a clean sweep. It wasn't!
Despite recent advances in democratization, sub Saharan Africa is still littered with rogue leaders and the obnoxious title of President for Life remains relevant. Eduardo dos Santos has ruled oil-rich Angola since 1979 when he succeeded the Dr. Agostinho Neto, a poet and medical doctor whose armed group known by its Portuguese acronym of MPLA assumed power after the Portuguese scampered out of Angola. President dos Santos has since turned Angola into a vassal of bitter foe, the United States of America. He recently announced plans to relinquish power this year after an earlier pledge to quit on the fortieth anniversary of his ascension.
Over the years, President dos Santos has created a new class of billionaires out of cronies and family members, thanks to a newfound wealth after Angola discovered oil. Among the new rich is Isabel, the president's daughter who, at 44, is reputed to be one of the top three richest women in Africa! In Equatorial Guinea, another oil-rich country, President Mbasogo Nguema has been calling the shot since he killed his uncle and inherited his presidential powers in 1979. Some Nguema cronies, including his highflying son and heir apparent, are under investigation in some European capitals for money laundering. President Nguema has no intention yet on loosening his vice-grip on his country.
President Robert Gabriel Mugabe has held Zimbabwe by the jugular since he came out of the bush to win elections in 1980. At 93 on February 21 and, after thirty-seven years, Comrade Mugabe is the candidate of the ruling Zimbabwe African National Union, ZANU, party for scheduled elections. He has not announced a possible successor but his wife, Grace, has been warning those she labelled 'pretenders' to steer clear. Her reason: Dead or alive, President Mugabe is the candidate for the next elections! If he has his way, President Mugabe will be a little north of one hundred years at the end of his next tenure.
Since he led a rag-tag army into Kampala, capital of Uganda, in 1986, President Yoweri Museveni has rubbished the credentials of Africa's first and only Field Marshal of the Army, late President Idi Amin Dada. The presidency in Uganda may become a relay if President Museveni succeeds in his plans to hand the baton to his son whose accelerated promotion in the Army has ignited grumblings in the military hierarchy.
In Cameroon, the people have known only President Paul Biya since 1982 when power was voluntarily ceded to him by Ahmadu Ahidjo, the dotting boss President Biya turned against. In Eritrea, Isaias Afewerki has succeeded in whipping his people into submission since he led an insurgency that carved Eritrea out of Ethiopia in 1993. In post Mobutu Sese Seko's DR Congo, Joseph Kabila wants to achieve what his slain father, Laurent, failed to achieve. In next-door Congo Brazzaville, there is nothing to suggest that President Dennis Sasso Nguesso is about to quit the stage while in Burundi, President Pierre Nkurunziza has been trying all the tricks in his bag to hold on to power.
President Idris Derby has been supreme leader of Chad since 1990 while Hassan Omar El Bashir, an army General, has been calling the shot in Sudan since he dislodged the democratically elected government of Prime Minister Sadiq al Mahdi and his Umma Party from power. It has not always been gloomy as some despots fell by the wayside.
Blaise Compaore thought he had a life presidency all wrapped up after he killed his friend and president, Thomas Sankara, in a bloody palace coup in 1987. He was sorely mistaken. After two decade and half, Compaore was pushed out by the power of the Burkinabe people. Others simply failed at the experimental stage. After ruling for two terms of ten years in Niger Republic, President Tanja Mammadou, a former army General failed in his bid to perpetuate himself in office when he was chased by his soldiers. In Nigeria, President Olusegun Obasanjo who moved from jail to State House avoided a similar fate when he grudgingly quit office after his bid to elongate his rule was shot down by federal legislators.
In Ivory Coast, Laurent Gbagbo was forced out after he after he lost to Alassane Ouattara and refused to quit. Old man Abdullahi Wade of Senegal dropped plans of forcing his son on the people when he smelt a potentially dangerous backlash. Togo's Faure Gnassingbe Eyadema is busy bickering with his siblings over a country they think is a bequest from their late father. Early this year, Nigeria's former president, Goodluck Jonathan, confessed he relinquished power to avoid bloodshed! It was aconfession many said confirmed widely-held views that Mr. Jonathan was persuaded to quit to avert the fate that befell Laurent Gbagbo!
Twenty-two years after he ousted Sir Dauda Jawara in 1994, President Yahya Jammeh lost to opposition candidate, Adama Barrow, the replacement for veteran opposition leader, Husseini Dabo. Jammeh initially conceded only to demur a week later. Rebuffed by regional leaders, abandoned by Gambian soldiers and with crack regional troops waiting for an order to throw him out, Jammeh knew the end had come and settled for a life of exile in Equatorial Guinea.
Of course, protection of self and group interests rank top among factors that influence African leaders to hang on to power. And, until the tipping point is reached, it is delusional to imagine an end to the obnoxious practice. The tipping point will be when the suspended Arab Spring drifts southward! Good news is that a southward drift of the Arab Spring can be averted.
Question is: will it?
Magaji is based in Abuja and can be reached at < [email protected] >