President Buhari's Vacation: A Shameful National Ballet in Banana Republic.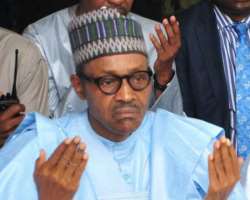 I will start with the assertions of Reuben Abati, that there are demons in Aso Rock that turn its occupants brains upsidedown. If this is not absolutely true then the melodrama emanating from this highest seat of power over the 10-day vacation that turned to indefinite holidays won't have been a national choreography.
Surprisingly, people that supposed to furnish Nigerians with details are now pouring curse of death on anyone that wishes President Buhari death. I think they should buried their heads in shame for mismanagement of information about the President's leave and for taking about 180million people as fools. How do they want Nigerians to react when their President flew out of the country on 19th January while his leave letter stated 23rd January? What do they want Nigerians to do when their President transferred power to Vice President who was on diplomatic assignment in the far space of Switzerland? Please help me ask them if Nigerians should not be worried when there was vacuum for hours as the assigned Acting President was nowhere to be found on the shore of Nigeria? If the President was their blood father and he extended his leave on the ground of test cycle wouldn't they be worried?
If truly they are patriotic, then the above episodes are enough to be concerned about the President of most populous black nation. By now they should be on their knees apologising for turning our President to something else. May be they are shallow in public affairs management, if not they should know that President Buhari is no more a private person. Thus his health is too relevant to be shrouded in secrecy. Nigerians are the people paying his bills including them that have turned to constituted authorities, so Nigerians should be updated about their President.
Let me reiterate it, a President cannot be hale and healthy where everything about his nation is chaotic and yet extended his leave indefinitely. If President Buhari is truly fit as purported by these constituted authorities then he should return home and stop wasting tax payers money on medical tourism and luxurious vacation after spent N3.8bn for medical facilities in State house last year. It is still beating my imagination why a President on vacation will be receiving high ranked public officials on weekly basis as guests at the expense of innocent public. Can sending vacation pictures to a hungry common man solve his problem?
To make it worse, a President on vacation had diplomatic discussion with USA President. Does it mean Nigeria is having two Presidents at the same time? I will count this as a blunder from President Donald Trump, if truly he had official engagement with a President on vacation when power has been transferred to another person. Nigeria should not be treated as a banana republic where anything goes. Meanwhile, President Buhari found it better to speak with President of a nation where systems are working as designed but ignored his people calls to address them in an audiovisual broadcast. President Buhari should know that Nigerians brought him to power not outsiders or political elites, therefore he should accord more respect to them than anybody. Let me remind him that those telling him to disregard his people are putting him on the line, Nigerians, both old and young are his paymasters not these enforced constituted authorities.
Dear President Buhari, if you don't return home this weekend and resume as President, then it is either all is not well with you over there or you are desperately wicked for spending our scare resources on vacation in recession time. If you don't return home as soon as possible and make a State broadcast then your handlers have succeeded turning you to a photographic President running a Photoshop government. Nigerians voted you as President not pictorial leader on social media, please come home. President Buhari should know that Aso Rock is different from London Rock where is cooling his head and not all Nigerians can afford flight ticket to his new official residence in London.
My advice for my brother from Osun State, Femi Adesina is that he should stop disrespecting Nigerians in the course of doing his herculean task. Please if you don't know before let it sink to your brain now that the President is not a private person, the President has no right not to speak to his people, the President has no right to be on indefinite vacation when there is no deviation from his normal physiological and psychological states and it will be heartless for President Buhari to be spending tax payers money on vacation indefinitely.
Likewise to those asking Nigerians to be praying for a hale and healthy President, please what should be our prayer points after seeing him photographically and reportedly cracking jokes.
Please bring back our President, #BringBackBuhari, #BBB
Ifedayo Obi
Lead Partner, Good Governance Advocates.