Fani-Kayode is "God's Finger" in Southern Kaduna – Southern Kaduna Rebirth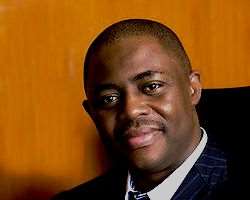 Members of one of the foremost groups in Southern Kaduna, The Southern Kaduna Rebirth (SOKARE), have described former minister of aviation, Femi Fani-Kayode, as one of those whose voices have helped in forcing the terrorist Fulani herdsmen to cut down massively on the scale of terror they planned to unleash on the people of the area.
In a press release signed by its chairman, Peter Ayuba, and made available to the media shortly after a meeting in Abuja, the group described Fani-Kayode's interest in the terrible occurrences in Southern Kaduna as the "Finger of God" and highly commendable. They admitted that but for the constant criticism of the likes of the former aviation minister that has helped to keep the marauding herdsmen and their official sponsors in check, the situation could have gone worse than it is.
SOKARE commended the Osun born chief for standing up for them despite not being directly affected by the situation there. "Sometimes we are left to wonder where he finds such strength and motivation but then we remind ourselves of the scripture which declares that the righteous are as bold as a lion and that those who know their God shall be strong and they shall do exploits. In fact, Chief Femi Fani-Kayode is a fulfillment of the scripture that says there is a friend that is closer than a brother. He is one of such very scarce friends and we shall remain eternally grateful to him for speaking out against official tyranny and oppression at a dangerous time like this. Only God can reward him abundantly.
"Ours is a region of majorly peasant farmers who struggle to make ends meet, yet, you chose to stand up for us when our enemies rose against us; you became our voice when we lost ours, and made us to feel assured that we are not alone in this battle. We cannot pay you but God will surely do," the statement read.
The group went ahead to also commend Governor Ayo Fayose of Ekiti State, CAN, SOKAPU, Apostle Suleiman and other individuals and groups that have stood by the people of Southern Kaduna in their times of suffering.
The group called on the federal government to be alive to its responsibility of safeguarding the lives of its citizens even if they do not share the same faith with them. While imploring the federal government to forestall further attacks on the people, it urged the authorities to ensure that perpetrators of these dastardly acts are brought to book forthwith to give the victims a sense of justice and reprieve. This, they said, is the only way government can heal the festering wounds in the area.
"Should government fail to do these, we shall not hesitate to mandate our people to defend themselves with vigour and ferocity whenever and wherever such attacks might occur again. The attackers and their sponsors should know that no group has the monopoly of violence," the statement concluded.