Shippers' Council's scores low on budget performance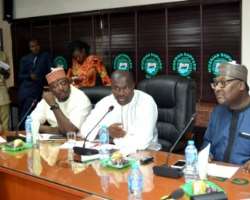 The National Assembly on Wednesday expressed dissatisfaction over the budget performance of Nigerian Shippers' Council (NSC) in 2016, saying that before the committee would approve the Council's 2017 budget, it would defend the expenditure of its 2016 budget.
Speaking when the House Committee on Port, Harbour and Waterways visited the council in Lagos on the sidelines of its oversight duty, Chairman of the Committee, Patrick Asadu, stated that the constitution empowered the committee to not only appropriate funds to government agencies but also to follow them up to ascertain how the money is spent.
"We are here on a routine visit because the constitution says we don't just appropriate funds to government agencies, but to also follow how the money is used and to make sure that what we appropriated applied," he insisted.
The chairman observed, however, that most of the government agencies performed badly adding that almost all government agencies did not go beyond 60 per cent of their budgets because of paucity of funds.
"We have made our observations. It is an ongoing process. They will come back to the National Assembly to defend the budget. In general, there are still some areas to look at," he noted.
He however, lauded the initiative of the Council on providing Inland Container Depots (ICDs) across the country to facilitate easy delivery of goods to different parts of the country.
He advised the Council to find means to leverage on its revenue generation as a key agency in the maritime industry.
Source:
Sun