HURIWA CONDEMNS HIGH TAXATION ON ESSENTIAL DRUGS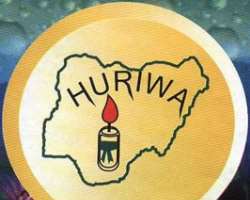 A pro-Democracy and Non-Governmental organization- HUMAN RIGHTS WRITERS ASSOCIATION OF NIGERIA (HURIWA) has raised alarm that poor but sick Nigerians may soon die in their numbers because of astronomic review of over the counter medications.

HURIWA said the recent directive by Federal Ministry of Finance to hike duties/taxation charged pharmaceutical importers of essential medications into Nigeria will result in unwarranted death by hundreds- of -thousands of indigent Nigerians who can't afford the high costs of drugs.

Besides, the Rights group affirmed that the absence of an effective and efficient national health insurance policy in Nigeria has made healthcare very expensive and out of reach of the common man just as the group charged government to fulfill the social order which provides in section 17 (3) (d) states that Nigerian government must ensure that:" there are adequate medical and health facilities for all".

"We are massively receiving complaints from all parts of Nigeria from struggling masses that the costs of essential drugs have shut up beyond their reach even as the majority of Nigerians exposed to poor nutrition and hunger are on the verge of death because they can't afford these essential medications. The problem of mass unemployment has further compounded the health crisis afflicting most poor Nigerians".

HURIWA recalled that a circular by the Minister of Finance, Mrs. Kemi Adeosun to the Nigeria Customs Services, NCS, raised the duty payable on imported medicaments such as anti-malarials and antibiotics.

The Rights group further affirmed that based on extensive investigation it has found out that the ministerial directive on Tax for medicaments in the circular entitled "Import Adjustment Tax", a 20 per cent tax is being imposed on imported medicaments.

"We have found out that as soon as the communication from the Finance ministry was made the asking prices of common Over-The-Counter, (OTC,) medications such as antibiotics, anti-malarials and antipyretics were multiplied by sellers".

"Report reaching HURIWA from multiple source including vastly knowledgeable investigative health reporters, we discovered sadly that in a number of pharmacies, chemist shops and other drug retail outlets across the Federation, prices of these drugs have gone out of the reach of the average Nigerians. Hundreds of thousands of Nigerians already absolutely impoverished by the current excruciating economic recession can't afford these essentially lifesaving medications and the grave consequences that would follow is that several sick Nigerians suffering from otherwise treatable ailments may die sooner than later. This indirect mass murder by government through evil taxation must be halted now".

The group has also written a presentation to the Acting President Professor Yemi Osinbanjo and the leadership of the National Assembly (Senate President Bukola Saraki and Speaker Yakubu Dogara) to compel the Finance minister to revise this anti-poor tax policy which has led to the multiple hike of prices of drugs that are essential.