DICKSONOMICS, A POLITICAL PHILOSOPHY OF BAYELSA LIBERATION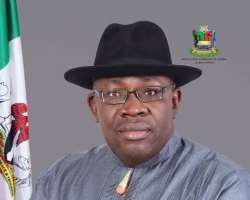 When a pattern of leadership of a given place or people has been established in political Science,it becomes part of the norm,a political lexicon that may define expectations for the present and future. So it has become in Bayelsa State Nigeria five years after Governor Henry Seriake Dickson took power in Bayelsa State defeating the incumbent Governor in a wave of public approval and Ijaw ethnic yearning for a new direction.
Today ,Valentine day five years ago, Governor Dickson mounted the rostrum at Peace park Yenagoa to deliver a speech that changed governance in Bayelsa permanently. In his speech,he promised to tackle headlong the security dilemma that makes progress difficult. From the outset he declared an educational emergency and promised free education for Bayelsans. Then he would go on to tackle the intractable infrastructural malaise and provide road access to the food and oil and gas producing hinterland via completion of the three Senatorial roads. He wanted to be held accountable for not playing politics with the Ijaw national interest,with Bayelsa Development,with crime and criminality indeed security of life and property. With the above in place ,he said his strategy for the development of Bayelsa state would involve opening Bayelsa to the world and world to Bayelsa. In this pursuit,he would run an open transparent,and accountable government. He intended to attract investors to partner with government in certain aspects of this fulfillment while making tourism a fulcrum of this investment drive. He would make Bayelsa truly the glory of all lands and the Jerusalem of the Ijaw nation. By the time he was done Bayelsa would become something of a Dubai of Africa.
At that time,these promises sounded utopian and unrealizable. Some people dismissed it as another politician promising heaven and earth.You would appreciate this sceptism when you take in the situation of things on ground at this time. Bayelsa had passed through many military and civilian governments since creation. But it did not seem set to achieve the core objectives of the founding fathers whose vision was a unified and prosperous Ijaw national homeland that may also become the glory of all lands. How do you even get the taxes that accrue to you as an oil producing state when the exploiters of oil cannot settle here for more than a few hours? How do you build costly road across swampy areas below sea level when there is no security of life and property for even construction companies like Julius Berger that just then vacated a contract citing insecurity reasons? The major story around was abandoned projects and the politics at that time was "Upfront Mobilisation" and periodic upwards contract review. Politicians were used to "promise and fail" saga. The people were used to picking political crumbs from their leaders table and "I'm loyal" was the political passage to daily bread while militancy reigned supreme amongst the youths. Of course money was" floating on the street "and everyone was authority as to the next move of Government because indeed the ministries typed their memos on cyber cafes while individual politicians provided often over bloated rented apartments to host Government offices in and around Yenagoa. The Local governments operated from Yenagoa and the hinterlands remained as they were. Transport into the creeks could well be imagined in its level of comfort for the visitor. So when you talk of tourism or infrastructure and you mention Dubai the rumor mills will take you to town. You could say indeed there was no Government in place but just a contraception to keep the people satisfied just before an election. Indeed the politicians could not stay home but were often based away in decent towns and they invested there. But as soon as election timetable come out they would make Bayelsa a land flowing with milk and honey to get the people,es votes and they would build hotels where they would stay at such times as their contribution to development. When Governor Dickson came in with his far reaching vision,he once confessed that he was approached by some of these politicians to advice him that Bayelsa was not a place for his kind of good governance because the people were tuned not to appreciate it. That it was better he joined the bandwagon and spread the money around as much as possible. He rejected their proposals and fell out with many on this account.
Today,Governor Dickson and his Restoration Agenda has established the government of Bayelsa State into its autonomous phase. He built multiple secretariats annexes to accommodate all rent paying ministries and parastatals and saved billions of Naira. The Restoration Government is probably the most documented Government in sub Saharan Africa running the first open Government on the Social media and traditional channels making rumor mongering a thing of the past. Today Bayelsa is livable and oil majors have started moving into place while the three senatorial roads have reached an advanced stage of completion. You can drive to Nembe after construction was stalked for decades arising from insecurity. Today Bayelsa State is reputed to be the safest state in the Niger Delta region from a hot house of militancy five years ago. For the first time in its history major life transforming projects have taken off to completion here. Like the Cargo airport at Amassoma,with a 3.5 Kilometer runway built literally atop reclaimed land from water almost completed. Now with the visit of the Acting President,hope rises that Federal might may help in such difficult terrain roads going on to Oporoma,then hopefully a road will reach Agge reputed to have the deepest seaport in the region.The Road to Brass from Nembe would liberate the sea locked Brass axis industrial complex promising petrochemicals and gas to the Nigerian economy. Then the Restoration educational miracle has within five years raised the average male Bayelsans to the most literate status nationwide as the state's annual WASC high scores continues to confound critics. More than 40 billion Naira was sunk into building model primary and secondary schools that was never imagined in the region hitherto with school uniforms and books given free to students. On his promised human capacity building there has been numerous scholarships abroad but when the economy dampened the drive a new direction was immediately arrived at. Instead of our students being held to ransom at various capitals and government struggling to remit money in all sorts of currency,why not help establish a world class university here via public private partnership so that all others who yearn for quality education in Africa can come to Bayelsa to have their fill. This led to the establishment of the new university of Africa at Toru Orua Sagbama. The university will not be constrained by our environment and extant laws but will be global from outset with online courses and affiliations.
His approach has earned him a reelection, something unusual in this clime,international reputation and Ijaw wide acceptance. It has become Dicksonomics,a political philosophy of Bayelsa liberation.The core approach to dicksonomics is security,education, transparency,Financial prudence,and investment drive.
Dicksonomics seeks to liberate the people from ignorance through pervasive education and unfettered information flow in governance granting that each is sufficiently empowered to unleash his potentials positively via participation in shaping their own affairs. The Bayelsa Social media as a tool is reputed to be best of its kind in Sub Saharan Africa making Bayelsa state perhaps the most open Government within the same sub region. Today as Governor Dickson celebrates five years in office, Bayelsa State,the Ijaw nation and Nigeria have been impacted positively for all time.
Disclaimer:

"The views/contents expressed in this article are the sole responsibility of the author(s) and do not necessarily reflect those of The Nigerian Voice. The Nigerian Voice will not be responsible or liable for any inaccurate or incorrect statements contained in this article."