THROUGH THE FOG – WE STILL FEEL BAD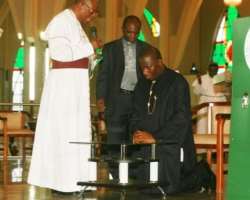 PHOTO: PRESIDENT GOODLUCK JONATHAN PRAYS BEING PRAYED FOR BY BISHOP CHIMAROKE IWEHA DURING A PRAYER SESSION FOR LATE UMARU YAR'ADUA AT THE NATIONAL CHRISTIAN CENTRE LAST WEEKEND IN ABUJA.

Since we started this democracy over a decade ago, those that rule us have tried to convince us that this form of government is our future. With their friends in the media they have tried and nearly succeeded in convincing us that our economy is booming, that it was right to pay the international debtors, that the anti-corruption crusade is real and they have tried to give us some evidence; James Ibori, currently phoning and texting his friends from a luxury Dubai hotel.
This article is intended to remind us of some facts because these facts will help us understand why we still feel bad, why despite of all the 'good news', we still feel bad.
The truth is that in more than a decade since democracy, all the things that make up quality of life in Nigeria still fall way short of where it should be. Health remains non-existent even now for the rich who have to fly abroad to be sure of surviving major illness. Education is worse than it was ten years ago even for the rich who now choose to educate their children abroad. Our infrastructure is worse than a decade ago when a three-hour car journey to Benin from Lagos is now five, if you get there. Our politicians appear to have a secret pact with darkness as ten years on after the promises of the first Obasanjo government; we continue to live in darkness at night. As evil operates only in the dark, our streets are less safe and our homes are visited with impunity by bandits. Even during the day, so called 'area boys' have taken over vast swathes of our commercial cities. And most of us know that our salaries and income is struggling to keep pace with the price of necessities i.e. fuel for our cars, rent and food.
If we consider the system that produced a James Ibori or a Peter Odili, then we will stop blaming them so much for our ills and look at the bigger picture. We know that we never really have elections in Nigeria; rather governors are imposed on us by PDP (the ruling party) through massive bribery and rigging. They therefore make sure that their men evade the judgement and wishes of the ballot box. There is a saying, 'he who pays the piper'. It means, in this case, a governor who gets to office has a responsibility to those who put him in there because he has agreed an oath that he will do their bidding. To pay back and furnish the financial demands of his God Fathers, he gets busy with creating schemes to siphon public money away from it's due purpose. When you steal millions and millions of dollars of public funds, you will be busy discussing with accountants, advisers, consultants, lawyers and offshore financial experts about how best to steal and also hide the money offshore. Such a man surely cannot and will not have enough money or time to build bridges, hospitals, schools etc and why should he? The people did not put him there in the first place. He does not know or owe them. And as we see from most of our governors and elected public officials, when they win office, their first aim is to distance themselves from the people!
Poor James, he must be feeling isolated and hard done by. After all the billions he spent on Yar'Adua's campaign, this is how he gets paid? He played the game, now he is confused that all his money, all his influence, all the promises has come to nought. In order to understand why he like us all are confused, we all also need to understand that Nigeria belongs to the global village. This means that whenever we turn on CNN and Bloomberg and we hear that the price of oil has gone up again, we also hear that it is partly due to the unrest in Nigeria's Niger Delta. The world's big economies and users of our oil cannot be happy that as they believe, James, Alams and Odili funded the Niger Delta militias. James should therefore understand that Jonathan has been instructed to chase him into the arms of the waiting Western powers. This is bigger than Nigeria. These eguje governors are now on America's radar. Welcome to the global village. I can assure James that he cannot oppose that international fraternity that is put together by America's need to dominate the world first by controlling it's resources of which we have a lot. In his time in Dubai en route to Ford Open Prison if lucky and Brixton if not, he should read John Perkin's incredible book "The confessions of an Economic Hit Man".
Nigeria's make up means that this Western style democracy cannot and will not work for us. The black man has absolutely no example of following the West's plan for us and succeeding. There simply is no precedence. Based on our culture, tradition and the mess the British colonialist left us in, we must forge our own system of government. Draft a constitution by Nigerians for Nigerians instead of the cut and paste approach currently adopted. Malaysia and China are two countries that did it their way and they both have a better standard of living than we do. Singapore went from third world to first world in one generation. In Nigeria, we have no light, no water, no roads, no healthcare, and no education. I was shocked when on a recent trip to South Africa, I visited Soweto and discovered that the road network and infrastructure was far superior to Victoria Island and Ikoyi – Nigeria's example of wealth to the world.
The reason that most Nigerians remain confused is that when you ask them if their lives have improved from 10 years ago, the answer has to be no. If you ask whether they feel more hope for the future, their answer has to be no. Most Nigerian's will tell you that what they truly want is a dictator who cares for us, because doing the right thing and making Nigeria great is not really rocket science. There are systemic reasons why Nigeria cannot and will not work. Progress is not measured by new blackberries and Range Rover Sports that you see around Lagos these days and rich people getting richer, it is measured by the quality of life of the lowest common denominator in your country. The quality of life of the poorest in Nigeria continues to deteriorate and this is why through the fog, we still feel bad.
Disclaimer:

"The views/contents expressed in this article are the sole responsibility of the author(s) and do not necessarily reflect those of The Nigerian Voice. The Nigerian Voice will not be responsible or liable for any inaccurate or incorrect statements contained in this article."
Articles by thewillnigeria.com