Lover removes girlfriend's eye, kills sister over pregnancy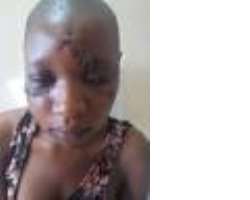 It is a gory story of a heartless lover who impregnated his girlfriend only turn around to wreak violence on the hapless lady and her sister. And the Nigerian Association of Women Journalists is interested in seeing that justice is done in that case.
In a report in Eagle Online, the Plateau State chairperson of the NAWOJ, Jennifer Yerima, condemned the rising cases of violence against women in the country.
Yerima was reacting to the recent incident in Plateau State where the lover went wild, macheting to death the elder sister of his girlfriend over pregnancy.
Simi Dusu was on July 27, 2016 at Tudun Wada, a suburb of Jos North Local Government Area of Plateau State, butchered by one Stephen Pam, the boyfriend of the younger sister, Justina Dusu.
Justina survived the attack, but her left eye was damaged due to the injury sustained from the knife cuts.
The NAWOJ Chairperson revealed that the case has attracted the interest of female journalists on the Plateau because it is part of the mandate of the association to give voice to the voiceless in the society.
Yerima said: "This case is that of sexual and gender-based violence that NAWOJ stands up to condemn irrespective of who you are in the society.
"We just want justice to be given to whoever deserves it in the society.
"But with the delay in the prosecution of the murder case, we are afraid this might not yield the expected results.
"We commend the judiciary for its pragmatic approach to this matter.
"We are sad to see that the accused person machete them and chop off the left side of the hand and spilled the brain of the deceased with several cuts inflicted on the sisters."
During a cross examination, the surviving victim, Justina told the court that she met Pam sometimes in 2007 at Mai Edon Toro and they started dating.
This was while she was still in secondary school.
After her secondary school, she left for Abuja to join the elder sister, Simi.
Pam then was always reaching her on the phone.
Justina said: I came back in May 2016 when I visited him twice.
"The second visit, we had sex and after some few weeks, I discovered that I was pregnant.
"I went to the hospital to conduct a test.
"Then the Doctor scanned and told me that I'm pregnant and I phoned him to tell him that what we did, the result is out.
"Few days later, he called me that we should meet.
"Then he came down to Bukuru Low Cost Junction.
"We met and he asked me to terminate the pregnancy and I refused immediately.
"My elder sister, late Simi, came back from her journey and I told her that my boyfriend Stephen has impregnated me and he is asking me to abort this pregnancy.
"She said no that I should give her his number to call him.
"Which I did.
"She called him and asked him to come so that we can talk over the issue, but he kept on bringing different excuses that his parents sent him packing out of the house because of the pregnancy.
"When he did not pick any of our calls again, she decided that we should go to his parents to inform them of what is happening.
"On the fateful day on our way going to see his parents, we saw him dropping at Sabon Gari Junction on a bike, then told my elder sister late Simi that 'See Stephen', which was their first time of meeting each other.
"So they started talking.
"Then he said they should go to his to place and complete the discussion and not outside where such issue is not right to heard.
"We all agreed to go inside his house.
"So on getting there, we inquired if his parents are around, he said no.
"He quickly showed us the younger sister outside.
"So she said we are here to see your parents not you.
"At that point, my elder sister's phone rang so she went outside his room to answer the call and he asked me: 'Justina do you come to stay or what Justina? I'm not ready to be the father of that child now.'
"And he asked late Simi to excuse us for talk.
"Stephen now drew very close to me that please Justina come close, when I noticed an object like machete and he used one iron to hit me from my left eye down to the neck.
"Then I shouted and that attracted late Simi to rush into the room and she screamed by forcing the door open.
"But Steven had locked the door.
"She shouted for help.
"No one was there to help, so Simi managed to break the door and Steven macheted her and she was struggling to collect the machete from him.
"Then, Stephen turned back to her and started using the machete on the head, neck, sliding her brain open with the machete when I was lying helplessly as I saw Stephen cutting her neck and I noticed myself inside the Hwolshe Medical Centre (lencope).
"Simi died 30 minutes before she was taken to the theatre and later I regained my consciousness two days later."