PDP leaders meet in Jonathan's Abuja home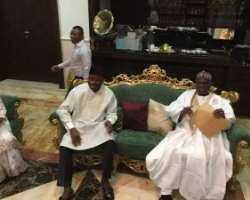 Members of the opposition Peoples Democratic Party (PDP) are presently meeting with former president Goodluck Jonathan.
The meeting is being held at the home of the ex-president in Abuja.
The PDP confirmed the meeting of its Strategy Review Committee with Jonathan on its official Twitter handle.
One of those at the meeting is former information minister Professor Jerry Gana.
Although the full details of the meeting are yet to be revealed, the Committee said it was in Jonathan's house to present to him its report on re-strategising the party ahead of the 2019 elections which it had been working on.
Jonathan and Jerry Gana share smilws during the meeting
Just recently, the party organised a meeting of party stakeholders to determine how to move the party forward. Many members at the meeting expressed support for the National Caretaker Committee headed by Senator Ahmed Makarfi and also backed the activities of the Strategy Review Committee which visited Jonathan today, February 13, 2017.
Jerry Gana exchanges greetings as Jonathan (seated) does the same.
Jonathan was the party's national leader as president of Nigeria but has refrained from openly identifying with the party or its reform programmes since it was ousted from power across Nigeria in the general elections of 2015.
A member of the PDP team in Jonathan's house
The PDP says the delegation of PDP leaders will also meet later with the former National Chairman Dr. Bamanga Tukur and former Head of State Gen. Ibrahim Babangida to also present their report.
In lead photo: Former President Jonathan with PDP chieftain Jerry Gana
Credit: Naij.com