Why Biafra agitations are gaining momentum: Nnia Nwodo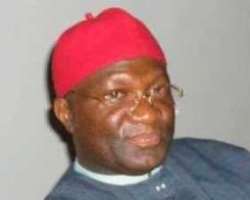 President-General of Ohaneze Ndigbo and former Minister of Information and Culture, Dr. Nnia Nwodo feels strongly that the conditions that orchestrated the Nigerian Civil War – persecution of Ibos – are still prevalent.
According to him,  the conditions that propelled Biafra during the 1960s are still in existence now.
Nwodo spoke as a guest to [email protected] programme.
Dr. Nwodo also said that Igbos are being treated unfairly in Nigeria as if they are a defeated people. He said, no South-easterner currently heads any of the security outfits in Nigeria, a development, according to him, has further heightened the spirit of apathy among Ndigbo to the Nigerian "experiment."
He said,  "The kind of education that my generation has, has prepared us to be a lot more productive. It has prepared us to acquire more knowledge and to use the knowledge as an instrument of truth. We need to look into the quality of education that we are having now."
 Nwodo, who has brought new dynamism to the leadership of the pan-Igbo group,  said, "I want to use it as an instrument for unifying Igbos. I want to use it as an instrument of orchestrating the Igbo position in Nigerian experiment. At no time since the end of the civil war, we had the kind of ethnic tension that we have in Nigeria. "Talking from my people, they don't feel they are part of this country. In the South-East where i come from, nobody in the south-east is heading any of the security outfits in Nigeria. Not the army, not the navy, not the air force, not the police. Not the customs, not the immigration, not the Nigerian intelligence agency, not the SSS, not the Road Safety Corps, not the Civil Defence."
"The impression of the average Igbo man is that we are not trusted enough to be put in a sensitive security situation. Full stop. Number two: since the end of the war till today, the Niger bridge has remained a delicate situation and as well reflected in every budget. What a second Niger bridge, the other time they awarded it, the implementation was lethargic. General Buhari came to government and suspended the contract for a while and re-awarded it. We are still waiting to see whether it will ever work. I remember Jakonde as Federal Commissioner for works let me assume it would soon be done. Just like Fashola told us the other day in seventeen month it would be built nobody in the south-east believes him because we've been told this severally and if you go to the books of the National Assembly you do not see the funds that are likely to finish it within declared space of time."
"Now, if you drive to the east, we are like a conquered people. And every major town you come into the east, there is a military checkpoint. They call it Python Dance. If they screened you for arms and ammunition, i will understand that the national security permits it. But they collect money from you.  Between Enugu and Onitsha, there are seventeen checkpoints that i enumerated on one trip. They are police checkpoints, some police and army compiled. Commercial vehicles' drivers drop the money on the ground. They do not care whether the Inspector-General of Police is coming in an oncoming vehicle or whether you are photographing it. It does not happen anywhere else in the federation. I have been presidential candidate, i have travelled around Nigeria i have not seen it anywhere. And nobody cares. I have said it before at 82 Division i was arrested. I have said it at every public fora that i have opportunity to do so. Why are we being treated like a defeated people?"
The new Ohaneze chief was tactical while making his position known on the vexed question of   the agitations by the Indigenous People of Biafra for the resuscitation of the ill-fated Biafran Republic.
He said, "Who wouldn't if you were in their shoes? I did so when we went to war in Biafra. The pogrom unleashed on our people was a catalyst for war. And no civilisation murders people in a way to solve political problems. Now, the children go to school but they cannot find jobs. When i was in the University of Ibadan I, when we were leaving the university, we were interviewed by the Federal Civil Service Commission and we were employed in order of made and our names were published in newspapers and posted to other ministries before you finished your youth corps. There is no way an ordinary Nigerian graduate is sure that he will get a job. Many have languished for five years and majority of them in the south-east."
  "Let me tell you, I fought for Biafra before in 1967. I see the conditions that propelled Biafra existing now. I see the children restive and even threaten us their fathers that they cannot subsist under this present political situation. I am their father. Their grieve is my grieve. Their struggle is my struggle even though i do not agree that it is necessary to waste Igbo lives now. I believe that Nigeria can be restructured in such a manner that every part of Nigeria can develop at its own momentum, with a reasonable sense of physical independence. I have a feeling that what is being done to these boys has exacerbated them and increased their capacity for violence." "Boko Haram is in military force. It has conquered some territories even though some have been recaptured, it has destroyed local authority, it has destroyed traditional authority, it has planted its flag, nothing could be more treasonable."
"OPC moves like a motorcade in South-West, saluted by police people. The other day there were demonstrations in Lagos, in Abuja, in Ijebu-ode and police was protecting the demonstrators. They demonstrate in Aba, they are mowed down and killed. Nobody investigates it.
Between Enugu and Anambra state, there is a river and 20 bodies floated on that river for two months and they were supposed to be MASSOB bodies but nobody cares, no investigation till today. In Port Harcourt the other day, the solidarity with President Trump, they demonstrated and eleven people were killed according to them, police said one, i called for an enquiry, find out how many people were killed and why they were killed, nobody has listened to me. Do you belong to such a country that is deaf to the sanctity of life?"