Senate Investigates N5 billion Allocation For Non Existent Agency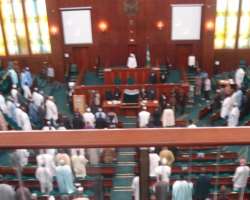 ABUJA, May 19, (THEWILL) - Senate is investigating alleged inclusion of N5 billion allocation in the 2010 budget for a non-existing Maritime Security Agency.
The allegation came on the floor of the Senate Wednesday during the debate on the bill seeking to establish the agency which is to be vested with the responsibility of guarding the coastal lines of the country.
Though the bill was withdrawn following insistence by lawmakers that its duties will conflict with that of the existing Nigeria Maritime Authority and the Navy, it became a controversial issue when the Chairman Senate Committee on Petroleum (Upstream), Senator Lee Maeba told the Senate that a N5 billion allocation had already been earmarked for the proposed agency in the 2010 budget.
He urged Senate to look into the matter adding those who included the agency in the budget did so in violation of financial regulations and as such must be brought to book.
Vice Chairman Senate Committee on Marine Transport, Senator Umaru Argungu confirmed that the agency has not been established but could not confirm at the session if it was provided for in the budget.
Dissatisfied by Argungu's submission, Senate President David Mark directed Maeba to provide the Senate with documents to back up his claim.
Stating that such would not be allowed, Mark stressed that the Senate will look into the matter when it resumes plenary next Tuesday.