umahism: Recession As A Catalyst For Prosperity In Ebonyi State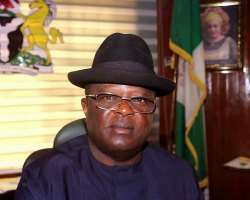 I have taken time to study the benefits of problems and pains; and the result of my studies and those of my predecessors in this field of experiential study like Tai Solarin, Philip Yancey and Rev. Chidi Okoroafor is that problems and pains are goldmines! My nephew, Kennedy Nweke, posits that "The life that spots and solves problems is the most fulfilled of lives." He charges people to "Stay in the problem zone and solve [the problems]". This is enough to say that one needs problems to develop. Over the ages, problems or pains [and not pleasure] have been the propellers that drove humanity to the enviable heights of technological, medical and other breakthroughs which mankind has attained and which we enjoy today. Problem and pain-induced necessities will continue to be the mother of inventions!
The greatest impediment to the development of African and other undeveloped countries and many an individual is that we are so ensconced in the enjoyment of other people's achievements that we refuse and fear to allow the odds in our immediate environment move us into positive, proactive and creative actions! In the words of Tai Solarin, "We do not achieve much in this country [Nigeria] because we are all so scared of taking risks"; and I dare to add that our potentials for creativity and zeal for groundbreaking adventures have been numbed by our choreographed appetites for other people's inventions, services and products! It is this foolhardiness that has reduced our country to a mere supermarket of foreign goods and ideas while our rich natural and human resources especially our brains are left largely in their natural states: untapped and unexplored! Consequently, we abandon our vast arable land which has propensity to grow a variety of useful crops and depend on imported food stuff which, apart from costing us fortunes, constitute dangers to our health. This is why we abandon our refineries and import our petroleum products from other countries.
The coincidence of the current economic recession in Nigeria with the inauguration of a new political dispensation on 29th May, 2015 was unfortunate because both the political class, the drivers of our economy and the populace were caught off-guard. Thus, the recession became a harbinger of problems and pains for governments, the governors and the governed. In many states of the federation, the impact of the recession threw the respective administrations off balance, plunged some into huge debts and forced others into administrative coma! From the Northwest through Northeast, Northcentral, Southwest, Southeast to even the oil-producing Southsouth states, plaintive cries of workers and the citizenry rent the air and our media platforms over unpaid salaries and wages; dilapidated and impassable roads; poor environmental sanitation, trade disputes; armed-robbery, kidnapping and other challenges which have continued to put the resilience of the citizenry to test. Even at the federal level, workers' salaries and wages have been slashed and owed while massive job-losses have been witnessed; projects have been frustrated midway and many federal roads have degenerated into valleys of death.
At this juncture, it is pertinent to state that as malevolent as the economic recession in Nigeria seems to be, one man has sparked light within the dark tunnel of recession; as terrible as the recession in Nigeria has been, a fellow of Nigerian Society of Engineers, a desperate believer in the all-conquering God, a deacon in the body of Christ and a husband of one wife, His Excellency, Deacon David Nweze Umahi, governor of Ebonyi state sees a big boom within the gloom of economic recession. For Umahi, economic recession is a catalyst for prosperity! Thus, when other governors were over-awed by the recession, Governor Umahi [in the manner of Jawaharlal Nehru] took a frontal dive which lodged him and his administration in the aperture between the two destructive horns of the bull of economic recession. Being there, Umahi invested all his faculties in his determination to conquer recession and succeed: That is the meaning of Umahism; And its implications are that when other state administrations drift at the whims and caprices of economic recession, Governor Umahi's administration is stable and building high profile projects which include three standard overhead bridges and a pedestrian crossover bridge; complete rehabilitation of 44 urban roads in Abakaliki town, over seventy on-going road projects which dot the entire landscape of Ebonyi state andintervention in the reconstruction of 3 federal roads with a total distance of 54.5 kilometers; installation of streetlights along all the roads, streets and avenues in the state capital and within the 13 council areas; construction of a waste processing plant at Umuoghara, a lassa-fever Centre at FETHA 1 and other medical centres. The list is inexhaustible! In response to people like me who accused Governor Umahi of turning Ebonyi state into a huge construction site even in a period of economic recession, Umahi rolled out an impressive stomach infrastructure program which highlights included the empowerment of 2400 youths/hawkers with #250,000.00 each to enable them to either trade or farm; #250,000.00 to each of 8000 persons comprising civil servants, women and men; #10,000.00 monthly stipend to widows, and salaries for 85 physically challenged persons. Umahi's involvement of over 200 youths in governance is legendary. The greatest good of this program is that it has buried security tension in our ugly past and turned Ebonyi into both an investment and tourist destination.
Ebonyi is not only one of the nine states in Nigeria where workers are not owed salaries, it is the only state in Nigeria where workers are paid mega bonuses or 13th month salaries under this recession! Through his agricultural revolution, Umahi has upgraded farming into a profitable venture. The result is that with the aggressive exploitation of Ebonyi vast arable land under Umahi's "one-man, one-hectare" farming program, Ebonyi state and her people have gotten a viable source of income to augument federal revenue allocations which have been dwarfed by the economic recession. Besides the bonuses earlier mentioned, Ebonyi workers whose earnings have been affected by the recession are encouraged through soft loans, exemption from duties on Thursdays and Fridays and other logistics to acquire more economic power through farming.
Umahism is positive vision driven by godly courage, it is the capacity to proactively dig beyond the veil of problems/pains and access the treasures that lie beneath them: Umahism is simply a stubborn but reasonable will to succeed against all odds! I invite the rest of Nigeria to embrace it as a panacea to this endemic recession and other problems that life may thrust on us either individually or collectively in our existential journey on earth.
Monday Eze is the Technical Assistant to the Governor of Ebonyi State on Social Media. He could be reached on [email protected]
Disclaimer:

"The views/contents expressed in this article are the sole responsibility of the author(s) and do not necessarily reflect those of The Nigerian Voice. The Nigerian Voice will not be responsible or liable for any inaccurate or incorrect statements contained in this article."