FG may reverse forex restriction on 41 items, says Customs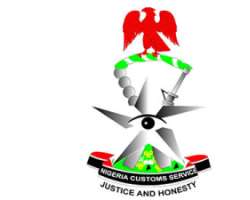 The Zonal Coordinator, Zone 'A' of the Nigeria Customs Service (NCS), Assistant Comptroller-General, Monday Abueh, has said the federal government may reverse the foreign exchange restriction placed on 41 items imported into the country.
Abueh disclosed this in Ibadan during his familiarisation tour of the Oyo-Osun Commands as part of his visits to Customs formations under his jurisdiction.
The Central Bank of Nigeria (CBN) in July 2015, restricted 41 items, including vegetable oil, poultry products, toothpicks, cosmetics, plastic and rubber products, among others, from accessing foreign exchange from the interbank foreign exchange market.
Importers of the restricted items are expected to source their forex requirements from autonomous sources. The policy has been partially blamed for the increased pressure in the parallel market for more than 20 months.
Rationalising the ban, the central bank had said the country had the capacity to produce those items locally.
According to the News Agency of Nigeria (NAN), Abueh said that when government's policies are rolled out, they are in the interest of the people, adding that Nigeria cannot be enriching other countries by allowing some banned items into the country.
He advised officers to be fully sensitised about implementing government policies anywhere they were posted to serve.
Abueh urged officers to also enforce the land ban on imported rice and vehicles.
He said smugglers might try to make Oyo and other land borders their alternative routes since security at Idiroko and Seme had been beefed up.
The zonal coordinator said that the Comptroller-General of Customs, Col. Hameed Ali (rtd.) and its management had redeployed officers at land border commands to ensure that nothing escaped through the routes in the areas.
He also urged the officers to be abreast of excise operations in order to assist with cargo clearance.
Abueh said his visit was meant to continue reminding officers about the federal government's polices as well as the directive given by the comptroller-general on security and protection of lives in the country.
When contacted on Abueh's statement on the restricted 41 items, CBN spokesman Isaac Okoroafor expressed ignorance of the remarks made by the Customs zonal coordinator.
'I don't know what he is talking about or where he got his information on the possibility of the forex ban being lifted on the 41 items.
'What we know is that the restriction imposed on the 41 items was in the best interest of the economy.
'The signs are already visible, as farmers and manufacturers have invested so much to produce those items that can be produced locally and that has translated in considerable forex savings.
'So I do not know where the Customs official got his information, but we know that the forex restriction imposed on the items is achieving the desired results,' Okoroafor said. Agency report