Honour him like a hero!
 (Tribute to Africa's Father of Geology)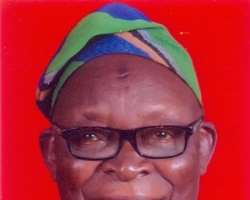 All things being equal, all roads will literally lead to Offa, headquarters of Offa local government in Kwara state on August 12, 2017. On the day, a large crowd is expected to descend on Offa to commemorate the birthday of one of Africa's illustrious sons and the continent's first professor of geology and acknowledged Africa's Father of Geology, Professor Muhammad Jamiu Mosobalaje Olayooye Oyawoye, CFR, the Aremo (Crown prince) of Offa who turns ninety on the day.
As has been the practice every August 12, a series of activities have been lined up for this year's version of the annual event. Only that, being the 90th birthday of Baba Oyawoye, this year's event is expected to assume a carnival-like proportion never known in the history of the town. This, and similar events in the past are deserved honour for an icon who, without any doubt, remains the most recognized, the most decorated and the most respected individual who singularly placed Offa on the world map.

It is in pursuit of this that a clamour was recently activated for Professor Oyawoye to be honoured as the hero that he is now that he is around! This is a shrill voice in support of the clamour. So far, the Federal Government has honoured Baba Oyawoye as Commander of the Federal Republic, CFR, and named a street after him in a strategic location in the federal capital city of Abuja. Monuments are also named after Professor Oyawoye at the University of Ibadan where he lectured for many years.

While these are commendable efforts, it appears the Kwara state and Offa local governments are waiting for Africa's Father of Geology to transit before they employ high-sounding adjectives to honour him. They are waiting, perhaps, in subscription to the sterile belief among Nigerians that only dead people can be heroes and heroines. This is, therefore, an appeal to the federal, state and local governments as well as an appreciative Offa community to name landmark institutions after Baba Oyawoye.

There is nothing wrong in playing Oliver Twist in the name Professor Oyawoye. For instance, the federal government could consider renaming its highest educational institution in the town as Jamiu Oyawoye Polytechnic, Offa, while the state government has several options available to it. One of them is to rename its School of Health Technology after Professor Oyawoye. On their part, the Offa local government and Offa Community have several options to pick from.

Let's consider some of them. For what he has done for community, there should, for instanc, be no problem with having Jamiu Oyawoye Hall in place of ODU Hall! Or, Jamiu Oyawoye Market in place of Owode Market. Or, having the Offa local government secretariat building renamed Jamiu Oyawoye Secretariat!

Born August 12, 1927, Professor Oyawoye, geologist, teacher, researcher, field worker, ambassador of peace, religious cum community leader and a man many prefer to call a human bridge was educated at Offa and Ibadan and worked briefly at the Geological Survey of Nigeria from 1950 to 1952. The brief spell at the Geological Survey of Nigeria literally determined his choice of career that turned him into an internationally acclaimed academic celebrity fourteen years later.

Professor Oyawoye was at the Washington State University at Pullman in the United States for his bachelors and masters degrees before proceeding to the University of Durham in the United Kingdom for his doctorate degree. He returned to Nigeria in 1959 and took up a teaching appointment at the University of Ibadan where he established what was to become the best geology department in Africa. Seven years later, precisely in 1966, he was appointed Professor of Geology, the first in Africa. That feat gave Offa community its first professor.

The academia helped to shape Baba Oyawoye's world view and actually prepared him for life's endless battles. Till date, elders still discuss with nostalgia how Baba Oyawoye was the clear choice of Offa kingmakers when the throne of Olofa was to be filled in 1970. At 43 then, Baba Oyawoye reasoned that a life of seclusion inside a palace, in spite of its attraction to some, was not for him. He reportedly turned down the offer, politely, and continued the search for excellence which he later deployed to impact on his community. He has affected Offa in more ways than he could have done as Olofa.

Residents and friends of Offa will to attest to Professor Oyawoye's love for his community. He has, since the 1960's been involved in virtually all projects aimed at lifting Offa and its residents. Five years ago, he spoke passionately about his life ambition of witnessing the establishment of the first university in his place of birth. With the commencement of academic activities at the Summit University, in which establishment he played a central role, that wish has now been fulfilled. A second university is in the offing.

Without any doubt, two universities is a brilliant idea in a community that also hosts a federal and private polytechnic, a college of education, a specialized naval institution, a school of health technology, a school of Basic and Remedial studies and a study centre of the National Open University of Nigeria, NOUN, among others, to cater for the educational needs of Offa and its environs. It is in recognition of his love for community that Professor Oyawoye was named AremoOffa nearly five decades ago.

Baba Oyawoye has seen it all and conquered all. He is one of Nigeria's most decorated intellectuals and certainly one of Africa's best gifts to the world of knowledge. He is a man widely respected across Nigeria and widely honoured abroad. It is a mark of Baba's humility that his home is a mecca of sort for people from far and near to consult and tap from Baba's wealth of experience.

August 12 may seem a bit far off but it is apt to consider everyday a birthday for Professor Oyawoye. It is therefore never too early to wish Baba a happy 90th birthday. As we rejoice with Baba for a life well spent, we should also join in praying to God to grant him more years of good health in his service to God and humanity.

Magaji is based in Abuja and can be reached at < [email protected] >