Okowa lauds Rector for building a stadium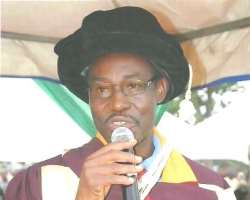 The Delta State Governor Dr Ifeanyi Okowa has once again commended the rector of the Delta State Polytechnic, Ozoro, Dr Jacob Oboreh for the building of 14,000 seating Olympic stadium.
The governor made the commendation during a press conference at Government House, Asaba on Tuesday.
The governor said that the stadium came into being as a result of partnership between the state government and the polytechnic management, describing the star project as one of the achievements of his administration.
The governor observed with delight: `The polytechnic stadium is a result of partnership between my government and the institution. We are proud of that`.
It would be recalled that the Olympic size stadium which was completed in a record period of one year was commissioned by the governor on 1st December, 2016 and the governor then challenged other heads of tertiary institutions in the state to imitate the prudent use of internally generated resources by the rector, Dr Jacob Oboreh.
In a related development, the governor also said that efforts were geared towards the revival of grassroots sports, saying that a national basketball competition sponsored by a beverage manufacturing company was under way this year.
He also said that the government was very supportive of the forthcoming national festival that would hold in the state, adding that his administration will use it to showcase the sports talents abundant in the state.