MUST OUR HEALTH MINISTER BE THIS ARROGANT?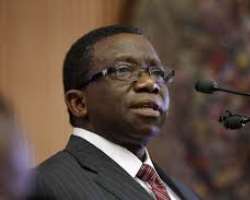 In the non-too-distant past, I was privy to a live broadcast of the convocation of the University of Ibadan. On the said day, it was the turn of awardees of doctorate degees to be so conferred. Another holder of a doctorate degree was invited to deliver the convocation lecture. In the course of proceedings, the substantive Vice Chancellor, Professor Isaac Adewole admonished all holders of doctorates from other universities to submit their doctorate degrees to the University of Ibadan for vetting! I was aghast! Though other persons present...academics and nonacademics alike... tried to laugh off this expensive gaffe, I did not find it funny at all. Adewole had recently been the Provost of the College of Medicine, University of Ibadan before being appointed as the Vice Chancellor of the university. He is the current minister of health in Nigeria.
Time passed and I seemed to have condemned this incident to my Thrash Folder until another professor announced the discovery of an antidote to HIV....only for Isaac Adewole to succumb to the dictates of his ego yet again by asking this professor to submit his findings to vetting by the College of Medicine, University of Ibadan! He...albeit as an afterthought joined the Federal Institute of Medical Research as a "co-vetter" of this laudable product of research and uncomon intellect.
Papers written from this research had already been published in academic journals which are the accepted vehicles for revealing such feats. Such journals also provide fora for instant peer reviews!
The University of Ibadan and its medical school plus its affiliated teaching hospital, the University College Hospital, UCH undoubtedly, have been around for some time. They have produced so many brilliant medical minds too numerous to count...Osuntokun, Adetuyibi, Akinkugbe et al who rose to be global...not local icons in the medical profession. The hallmarks of these gentlemen...and others like them...is modesty and humility. Many of us read their books as standard medical texts...yet their reserved nature was...and is...unwavering! This is the stuff we have come to expect from products and teachers of this foremost university and its medical school. But Isaac Adewole seems to be a compulsive deviant from these noble traditions!
Of course, peer review is sine qua non with the academia...but that is not the way it should be deployed....if need be by a political office holder.
Professor Maduike Ezeibe is well versed in virology and immunology. He obtained his first degree in veterinary medicine at the University of Nigeria Nsukka in 1986, Masters in Ruminant Medicine, and doctorate degree in Canine Medicine all in UNN. He is currently a professor of veterinary medicine in Michael Opara University, Umudike, Abia State. In his submissions, he reiterated the close association of viruses with plasmids, the fact that virus particles carry positive or negative charges. The tendency for a charged antidote to cleave on to a virus carrying an opposite charge...and the ease with which such nano particles penetrate substrates, barriers and pores too tiny for bigger particles to penetrate. His claims cannot be treated like those of a mere undergraduate writing a dissertation! Neither does he deserve condescending language from a man who suffers unnecessarily from a superiority complex!
He has invented the antiviral drug for HIV at a Nigerian University. He knows his onions. No Dick and Harry becomes a professor in the sciences "just like that"! He has peers in these fields nationally, continentally and globally. They would examine...and examine...and reexamine these findings and claims automatically...without any need to be prompted by a politician who can only embarass his alma mata by sounding off in its stead.
University of Ibadan is already great.
It needs no adverts!
https://www.bellanaija.com/2017/02/abia-varsity-announces-discovery-of-hivaids-cure-by-its-professor-maduike-ezeibe/
Dr Tosin Akindele is a medical practitioner and public affairs analyst.