AFGHAN INSURGENTS ATTACK BAGRAM AIR BASE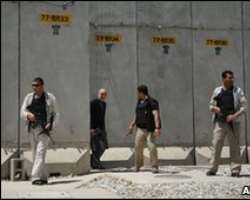 Bagram air base is key to international efforts in Afghanistan
Seven insurgents have been killed during an attack on the Bagram air base in Afghanistan, Nato says.
Five Nato troops were injured in the exchanges, which have now ended, at the base which is home to mainly US troops.
A Taliban spokesman, Zabaiullah Mujahid, claimed responsibility for the assault, saying 20 suicide attackers were involved.
A suicide bomber attacked a Nato convoy in Kabul on Tuesday, killing 18, including five Nato soldiers.
Bagram is one of the largest military bases in the country, home to mainly US troops.
The attack began early on Wednesday, and involved rockets, small arms and grenades.
The BBC's Ian Pannell in Kabul said that it was an audacious assault on one of the largest and most heavily fortified American bases in Afghanistan.
Two Afghan police and intelligence chiefs told the BBC that fighting near the Bagram base had now stopped.
Nato said seven insurgents were killed during the operation, but Afghan police at the scene said the attack involved only five insurgents who were all killed.
The insurgents approached the base in a car and one of the attackers killed himself using a suicide vest.
Speaking from the base, Sgt Tom Clementson told the BBC that the insurgents used small arms, rockets and mortars in a "failed attack".
"Our folks, always being ready to respond to these kind of attacks, did respond immediately," he said.
The air base is situated 30 miles (50km) north of the Afghan capital. Two US troops were killed in a similar attack in June 2009.
Our correspondent says that as well as being home to thousands of mainly US troops, Bagram is also the site of the country's most notorious detention centre where foreign and Afghan militants are held and which has been shrouded in allegations of abuse.
Although this is not the first time it has been attacked, the timing suggests this is part of the Taliban's spring offensive against foreign troops and the government – code-named Operation Conquest.
In Tuesday's attack in Kabul, five military vehicles were damaged and more than a dozen civilian vehicles, including a bus, were also caught in the blast.
The BBC's Mark Dummett says that, as is often the case in such attacks, Afghan civilians seem to have borne the brunt of the explosion in the city.