NON-CREW IN COCKPIT IN POLISH PRESIDENT'S PLANE CRASH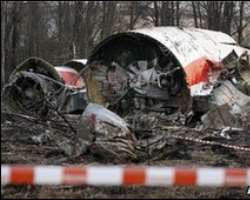 The plane crashed on its way to a commemoration of the Katyn massacre
Non-crew members were present in the cockpit of a plane that crashed killing the Polish president and more than 90 others, an investigation has found.
One of the non-crew members has been identified, though officials did not name them.
The plane crashed as it tried to land in Western Russia on 10 April, killing President Lech Kaczynski and dozens of senior Poles.
The investigation confirmed crew were repeatedly warned about poor weather.
An air traffic control official "warned twice that visibility was 400m (1,312ft) and that were there were no conditions for landing", said Alexei Morozov, chairman of the investigating commission.
The Tupolev-154 presidential plane was in full working order when it crashed, Mr Morozov said, according to a report by Itar-Tass.
The investigation, which was carried out by the inter-state air committee for the former Soviet Union, ruled out any terrorist attack, explosion, or fire on board the aircraft.
The plane was flying Mr Kaczynski and the other passengers to an event commemorating the 1940 Katyn massacre of Poles by Soviet forces.
"It has been established that in the cockpit there were individuals who were not members of the crew," said Tatyana Anodina, one of the investigating officials.
"The voice of one of them has been identified exactly, the voice of the other, or the others, will require additional information from the Polish side."
The pilot's cabin door was open as the plane tried to land and the voices of the crew were hard to identify, Itar-Tass reported