Buhari expected resume office April 6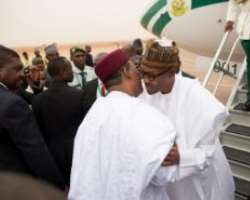 uharPresident Muhammadu Buhari is expected back from leave on Monday February 6, after 16 years absence.
Buhari left Nigeria for a 10-day  vacation in the United Kingdom, leaving Yemi Osinbajo his Vice President as Acting President.
There conflicting reports as to whether the president was ill and recuperation in a UK hospital bed or just a deserved rest at a UK home.
Speculations about the president's state of health at a point reached a fever pitch with some reports indicating that he may have died.
Many were apprehensive that what the country went through in 2011 at the death ofLate Umaru Yar'Adua that the countr5y was not ready for an encore.
Despite assurances from the president's spokespersons that the president is hale and hearty doubts still lingers with the doubting Thomases adopting 'let's-wait-and-see' attitude.
President Buhari before proceeding on the leave had given  a letter to the National Assembly, notifying the Senate and the House of Representatives of his journey.
He also transferred the functions of his office to Vice President , Professor Yemi Osinbajo, who had been acting on his behalf.
The presidency has refuted claims of his death, saying that the president was hale and hearty.
It will be recalled that the presidential spokesman Femi Adesina told journalists on January 17 that Buhari would be  back into the country on February 6th.
He had said,  "The growing tension about President Buhari's health is purely unnecessary. The president is just simply fine. I speak with people around him at regular interval.
"For his age, President Buhari is fit and capable of paddling the affairs of the country.
"He turned 74 last December and if you look at his engagement in the last two months, you will agree with me that it's been very engaging. Remember his role in the Gambia issue."
"My candid advise for those peddling the rumour is to change their mind and remain positive about this administration."
Meanwhile, Malam Gambo Jagindi who is the special adviser on media and publicity to the president of NYCN urged youths who are the future leaders of the country to show love, solidarity and support for the President.
"The National Youth Council of Nigeria (NYCN) has concluded arrangements to mobilise not less than 15,000 of its members to be at Abuja airport on Feb. 6, to welcome President Buhari from vacation.
"It is on record that integrity, discipline and honesty are gradually returning to our public life unlike in the past when impunity was the order of the day."