NFF TAKES BARIBOTE'S CASE TO ARBITRATION PANEL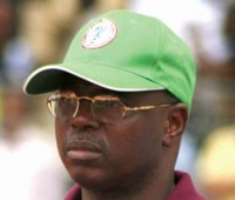 UNABLE to determine the election petitions filed by Bayelsa United's Chairman, Victor Baribote, and Abdulazeez Mohammed against former international, Davidson Owumi, who was recently elected chairman of the Nigeria Premier League (NPL), the Nigeria Football Federation (NFF) has referred the petitions to the Arbitration Panel.
Owumi was elected by a majority vote at an election conducted in Abuja penultimate weekend. However, Abdulazeez, who contested against Owumi in the chairman of chairmen election, and Baribote, who stood against him in the chairmanship poll, vehemently disagreed with the manner of his emergence and filed cases at the NPL Election Appeal Committee.
The NPL Appeal Panel dismissed the cases, but the determined petitioners promptly took their cases to the NFF Appeal Committee. Yesterday, the NFF Appeal Committee resolved that the two cases be taken to the Arbitration Panel. While the NFF will appoint one of the arbitrators, the NPL and Owumi on one hand will appoint one arbitrator, while Baribote and Mohammed will appoint one arbitrator each. Hearing on the cases will resume once the panel is fully composed.
In the case filed by Baribote, the NFF-appointed arbitrator will sit alongside the NPL/Owumi arbitrator and Baribote's arbitrator, while in the case of Abdulazeez Mohammed, the NFF-appointed arbitrator will be there with the arbitrator appointed by NPL/Owumi and Mohammed's arbitrator.