CENTRAL EUROPE FLOODS WORSEN, THOUSANDS EVACUATED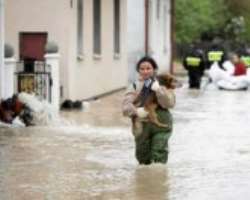 FLOODING in southern Poland has killed at least five people, and officials have closed the Auschwitz-Birkenau memorial site to protect its Holocaust archives and artifacts.
Thousands of people have been evacuated, and electricity has been knocked out in some areas. Rail travel also was paralyzed, rendering some areas unreachable.
Heavy rains that began in central Europe last weekend also are causing flooding in areas of Hungary, Slovakia and the Czech Republic, with rivers bursting their banks and inundating low-lying homes and roads, and cutting off villages.
Prime Minister Gordon Bajnai of Hungary declared a state of emergency in the northeastern Borsod-Abauj-Zemplen county, allowing those suffering financial losses to claim compensation.
In Poland, nearly 2,000 people, according to the Associated Press (AP) were evacuated from their homes and the flooding claimed two more victims yesterday, including one of the thousands of firefighters involved in the rescue efforts. Three people were reported dead on Monday.
In Krakow, a major bridge was closed as the Vistula River nearly reached it.
Meanwhile, European Union governments have overriden British objections – and U.S. worries – by agreeing to tighten rules for hedge funds, a move some fear will block American funds from the region and cause the lucrative industry to flee London's financial district.
The decision reflects Europe's new-found resolve to tighten oversight of financial markets and crack down on speculators with a heavier hand, though the final law may be softened as a concession to Britain's new government and its prime minister, David Cameron.
Hedge funds are lightly regulated investment vehicles that cater to rich and institutional investors. They promise high investment returns and tend to use complex trading strategies that can involve large amounts of leverage, or borrowed money.
The new EU rules would regulate managers of hedge funds, private equity, real estate and commodity funds for the first time, requiring them to register with regulators and hand over information on their trades. They will also have to set aside capital to counter risks – as banks do.
Crucially, the proposed rules don't give funds the automatic right to sell across the 27-nation bloc. U.S. Treasury chief Tim Geithner has complained that this was a 'protectionist' move that could shut American funds out of the EU.
To finalize the law by July, governments must now seek a compromise between their version and one voted by the European Parliament. The result is likely to give more rights to foreign funds to do business across Europe.
EU governments said in a statement that they wanted better supervision to match a pledge made in the wake of the financial crisis 'to regulate all players in the market that might pose a risk to financial stability.'
They said 'alternative investment funds' were not harmful but their trades can 'spread or amplify risks through the financial system.'
The fund industry warns that 'flawed' rules could hurt the wider European economy by limiting venture capital for small businesses and curtailing investment in real estate and infrastructure such as schools and hospitals.
The Alternative Investment Management Association said curbs on how much Europeans could invest in funds outside the EU could damage pensions and insurance funds.
'Closing Europe's borders would send all the wrong signals out to the rest of the world about Europe's place both as a global centre for financial services and as a destination for international investment,' the group said. 'It would significantly affect international trade and capital flows.'